Rupert Murdoch's Fox Successor Is His Son. And He's Just As Bad.
Lachlan Murdoch will follow in the steps of his father as the new chair of Fox and News Corp.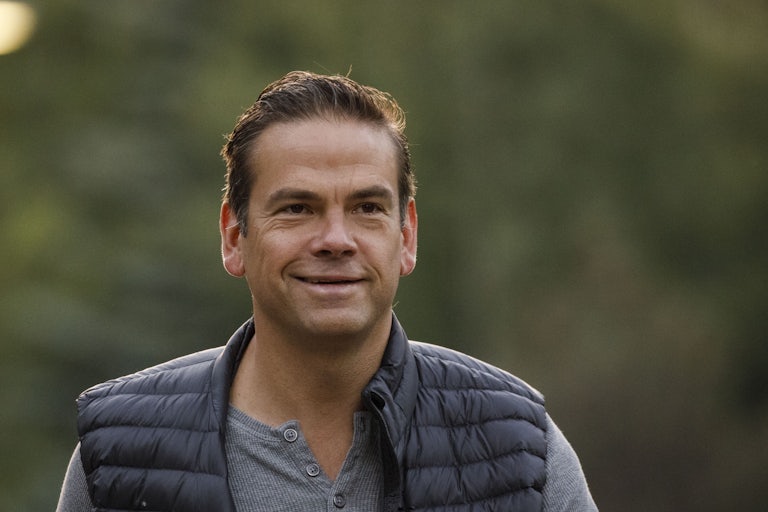 Patrick T. Fallon/Bloomberg/Getty Images
There's a new boss in town: Lachlan Murdoch will take the reins at News Corp and Fox Corp, after his father Rupert Murdoch announced Thursday he was stepping down.
Although he previously fled from both his father's business and the spotlight, Lachlan Murdoch has slowly made his way back up the ranks over the past nearly two decades. In that time, he has ceased to shy away from making his positions clear.
And if anything, he's even farther right than his father. Here are five things to know about the new head honcho.
1. He defended the "great replacement theory."
In 2021, then–Fox star Tucker Carlson did a segment promoting the "great replacement theory," which the Southern Poverty Law Center defines as a "racist conspiracy narrative [that] falsely asserts there is an active, ongoing, and covert effort to replace white populations in current white-majority countries."
Murdoch defended Carlson against criticism from the Anti-Defamation League, brushing off concerns that Carlson was promoting the theory. Murdoch argued that Carlson had said, "White replacement theory? No, no, this is a voting rights question." But considering the racist nature of the conspiracy, it's hard to see how framing it as "people of color voting" is any better.
2. He doesn't see an issue with Fox's programming strategy.
After Carlson was unceremoniously fired in April, Murdoch assured investors that the network's approach to programming wouldn't change.
"There's no change to our programming strategy at Fox News," he said in a May earnings call. "It's obviously a successful strategy."
If by "successful," he means, "resulting in a slew of defamation lawsuits for spreading lies," then sure. But Murdoch appears to have stayed true to his word, as host Jesse Watters took over Carlson's coveted prime-time slot.

3. He helped push 2020 election conspiracy theories.
After the 2020 election, Murdoch said that Fox's coverage should be "a huge celebration" of Donald Trump. During a pro-Trump rally, Murdoch criticized the Fox reporter for covering it in a way that was "smug and obnoxious." That reporter was later fired.
In its defamation lawsuit against Fox, Dominion Voting Systems specifically named Lachlan as a key figure in spreading election falsehoods. Dominion said he had "direct" involvement in broadcasting the lies about election fraud.
Rupert Murdoch and other Fox executives have since admitted they knew that the election fraud conspiracies were false, but they continued to allow Trump's allies to push the theories on air.
4. He used the Ukraine War to attack The 1619 Project.
During a March 2022 speech in Sydney, Murdoch discussed the importance of defending democracy and sovereignty, for instance in Ukraine. He said he was "shocked" to see a poll that found that a "bare majority" of Americans would defend the United States against an invasion.
Murdoch blamed The 1619 Project, Nikole Hannah-Jones's seminal work on slavery and its legacy in the U.S. He said the piece "recast American exceptionalism as racist from inception."
"It has done great damage," Murdoch said.
5. He said Fox is the "loyal opposition" to the Biden administration.
A few months after Joe Biden took office, Lachlan Murdoch abandoned all pretense of Fox being a reasonable news outlet. Speaking at a Morgan Stanley investor conference in March 2021, Murdoch said Fox News would act as "the loyal opposition" to the Biden administration.
He reasoned it would be good for the company's bottom line. "The main beneficiary of the Trump administration from a ratings point of view was MSNBC … and that's because they were the loyal opposition," he said. "That's what our job is now with the Biden administration, and you'll see our ratings really improve from here."