Frozen: DeSantis's Biggest Donor Ices Him Out Over Disney Idiocy
Ron DeSantis has failed to secure the support of his biggest billionaire donor thanks to his feud with Disney.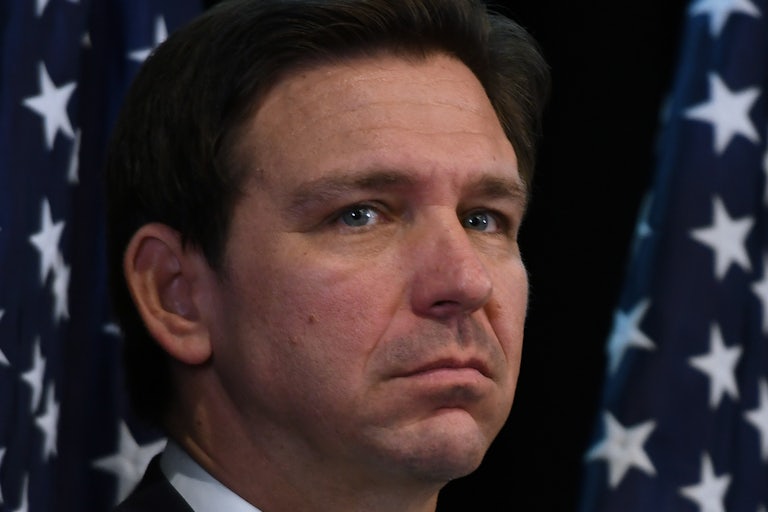 Paul Hennessy/SOPA Images/LightRocket/Getty Images
A Republican billionaire megadonor who used to be one of Ron DeSantis's biggest financial backers has yet to say whether he will donate to the Florida governor during the presidential primary.
Hedge fund CEO Ken Griffin told CNBC, in an interview that will air Monday night, that he is disappointed with all of the Republican candidates and has not decided which one he will back. Griffin highlighted DeSantis in particular.
"I don't know his strategy," Griffin said. "It's not clear to me what voter base he is intending to appeal to."
Griffin was DeSantis's biggest donor during the 2022 election, giving $5 million to his gubernatorial reelection campaign. Griffin also repeatedly said he would "love" to see DeSantis run for president in 2024.
But now he's suddenly changed his mind.
One of Griffin's biggest issues is DeSantis's battle with Disney. "The ongoing battle with Disney, I think, is pointless," Griffin said. "It doesn't reflect well on the ethos of Florida."
DeSantis has been locked in a bizarre and increasingly ridiculous battle with Disney for more than a year. When the company's then chairman condemned DeSantis's "Don't Say Gay" law last year, DeSantis retaliated by stripping the park of its autonomous governing powers and installing a leadership board of his own allies.
Disney sued DeSantis in April, alleging that he weaponized the government against the company's free speech rights—and the lawsuit cites extensively from DeSantis's own memoir. The two parties continue to engage in weird legal tit for tats.
Griffin also told CNBC that he would rather both Republicans and Democrats have younger candidates to put forward. If that were the case, "we'd have a debate around ideas and principles and policies to make this a great nation," he said. "We're not having that dialogue right now."
Griffin was the third-biggest individual political donor in the country in 2022, having given a total of $71,050,000 to exclusively conservative causes, according to OpenSecrets. The 2022 elections were the most expensive midterms ever, as billionaires such as Griffin rushed to exert influence over the outcomes.
Griffin actually was one of Barack Obama's biggest fundraisers when he first ran for election in 2008. But by 2012, Griffin had flipped, transferring his vote and his money to then–Republican nominee Mitt Romney. He alleged the Obama administration had "embraced class warfare as being politically expedient" and argued that wealthy people had "insufficient influence" in politics.

"Those who have enjoyed the benefits of our system more than ever now owe a duty to protect the system that has created the greatest nation on this planet," Griffin told the Chicago Tribune in 2012.
This article has been updated.