Right-Wingers Already Have a Wild Conspiracy Theory About Senator Menendez
Of course it's all about Trump.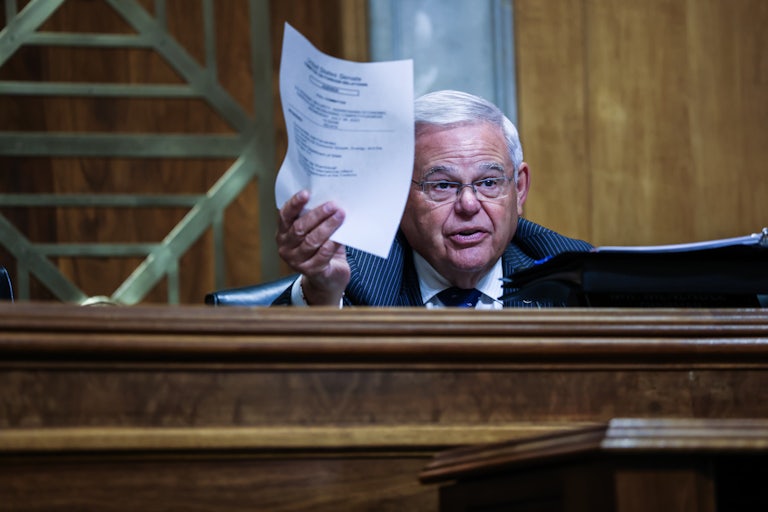 Valerie Plesch/Bloomberg/Getty Images
Right-wing activist Charlie Kirk on Friday accused the Department of Justice of trying to cover up its biases by indicting a Democratic senator.
New Jersey Senator Bob Menendez was indicted on federal bribery charges Friday. The indictment accuses Menendez and his wife of accepting hundreds of thousands of dollars in cash, gold bars, and "luxury vehicle and home furnishings."
But rather than accept the indictment shows that the Justice Department is actually a neutral entity, Kirk unveiled some convoluted logic to supposedly prove his original belief.
"The way that the fourth branch of government operates is with intentionality. There are no mistakes," he said on his podcast.
"They're doing this to create the appearance of impartiality so that they can continue their jihad against Donald Trump."
Republicans have repeatedly argued that the Justice Department has been weaponized against Trump, as evidenced by the many, many indictments against him. Kirk's new conspiracy theory shows just how many mental hoops they will jump through to continue believing that the government is out to get them.
This isn't the first time that conservatives have moved the goalposts. In August, Attorney General Merrick Garland appointed U.S. Attorney David Weiss as special counsel to investigate Hunter Biden. Weiss was already overseeing the investigation and had negotiated a plea deal that the GOP hated. Republicans alleged that the Justice Department impeded Weiss's investigation into Hunter Biden by refusing to give him special counsel status.
But in response to Garland giving a Trump-appointed attorney independent operating power, Republicans then began to argue that the whole thing was a cover-up.