Putin Suck-up Elon Musk Shut Off Starlink to Stop a Ukrainian Attack
A new report found Elon Musk used Starlink to disrupt a planned Ukranian attack on Russia.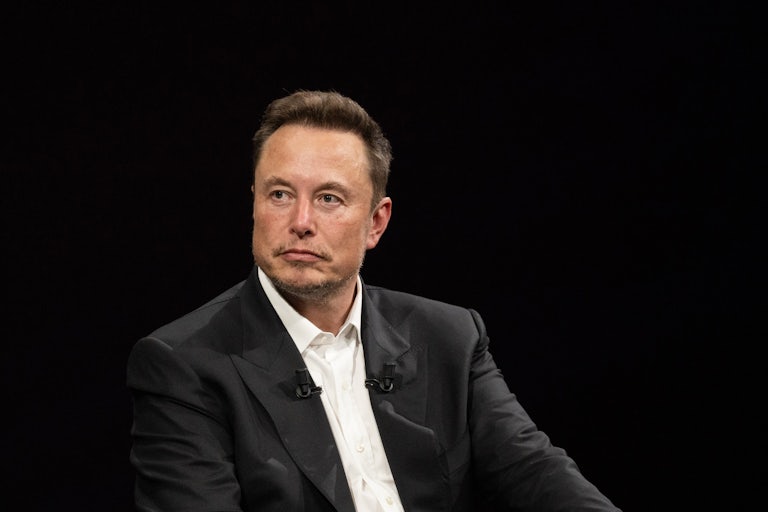 Nathan Laine/Bloomberg/Getty Images
Elon Musk personally foiled a Ukrainian attack on Russia last year when he cut off Starlink internet service near the Crimean coast, according to excerpts from a new biography of the Tesla founder.
Musk became involved with the war shortly after Russia invaded in February 2022, when he agreed to set up a nationwide network of satellite internet terminals, called Starlink, throughout Ukraine. This would help protect against Russian cyberattacks and allow the Ukrainian military to maintain constant contact while on the battlefield. An August profile of Musk in The New Yorker by Ronan Farrow revealed that Musk repeatedly threatened to cut off Ukraine's access to Starlink, which has become crucial to the country's military success.

In Walter Isaacson's new biography, Elon Musk, which will be released next week, he reveals that in one incident last year, Musk ordered his engineers to turn off the Starlink communications satellites just as explosives-laden Ukrainian submarine drones approached a Russian naval fleet. The submarines "lost connectivity and washed ashore harmlessly," Isaacson wrote.

Musk apparently was worried the attack would spark a "mini-Pearl Harbor" should Russia respond with nuclear weapons—based on conversations he was having with Russian officials. So his solution was to insert himself into a conflict in which he has no business meddling nor experience in solving.
Ukrainian soldiers have also lost internet connection on the front lines in other regions, forcing battalions to retreat or commanders to drive into battle just to be in radio range. U.S. and Ukrainian officials told The New Yorker they believed SpaceX, which manages Starlink, had cut off the internet terminals in certain areas, including major battlefields—including Zaporizhzhia, Kharkiv, and Donetsk.
Musk has said he takes issue with Starlink being used for warfare and has previously advocated for a peaceful end to the Ukraine war. Except, his ideas for peace involve talking to Russian President Vladimir Putin and coming up with a "peace plan" that involves ceding swathes of Ukraine to Russian control.
Musk keeps saying his ultimate goal is to "de-escalate" the war and achieve peace. But all of his actions seem more geared toward making him the center of attention, no matter what.