Florida Republicans' New Plan Is to Fine Abortion Clinics Into Bankruptcy
A major abortion clinic in Florida is facing a $200,000 fine, as Republicans continue their attacks on reproductive rights.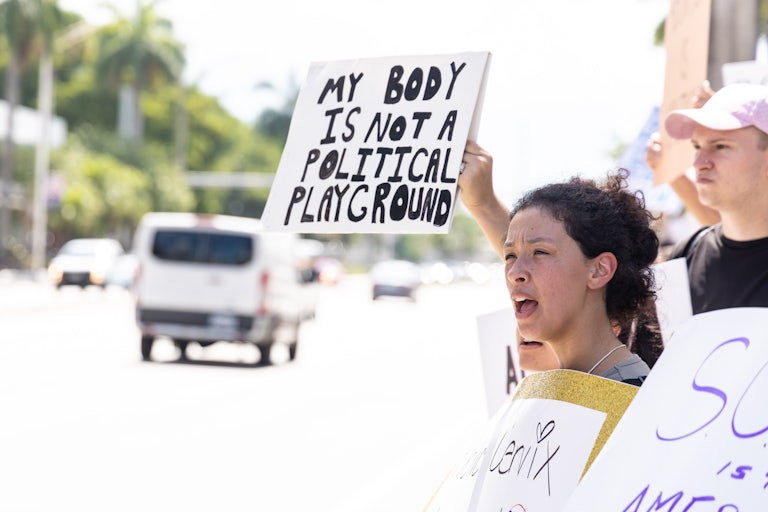 John Parra/Getty Images for MoveOn
An abortion rights activist in Fort Lauderdale, Florida
Florida health regulators have fined an Orlando abortion clinic nearly $200,000, a move that is purportedly for violating a state abortion law and would likely bankrupt the health center into closing.
Abortion is currently legal up to 15 weeks in Florida, but patients are required to wait 24 hours between the initial visit with their doctor and getting an abortion. The state legislature passed a law mandating the waiting period in 2015, but it did not go into effect until 2022.
Florida's Agency for Health Care Administration said that the Orlando Women's Center has violated the waiting period 193 times since the law took effect, and on Monday ordered the abortion clinic to pay a $1,000 fine for each violation.
The total $193,000 total is nearly triple the fine that a judge recommended in the spring. Administrative law Judge J. Bruce Culpepper issued an order that said the clinic should only pay $350 per violation.
The clinic said in court filings that it repeatedly asked the AHCA, which is led by a Ron DeSantis appointee, when the waiting-period law went into effect, but they never heard back. The AHCA has made multiple efforts to fine abortion clinics for not complying with this particular law.
Democratic state Representative Anna Eskamani, who represents Orlando, slammed the fine. "This is a local abortion provider that is being charged excessive fees by AHCA all designed to shut them down," she said Thursday on Twitter. She also shared a fundraiser for the Orlando Women's Center organized by a group of abortion clinic escorts, who help guide patients past protesters.
Florida's 15-week abortion ban will go before the state Supreme Court in September. If the court upholds the law, then an even more restrictive measure banning abortion at six weeks—before people know they are pregnant—will go into effect.
DeSantis signed the hugely unpopular six-week ban in April. If it is implemented, it will decimate abortion access for much of the southern United States.
Meanwhile, the pro-abortion group Floridians Protecting Freedom is working to get an abortion rights referendum on the state's 2024 ballot. The group says they have collected nearly three quarters of the 900,000 verified signatures from registered voters required for the ballot initiative.
If they succeed, then abortion protections would likely be enshrined in the state constitution, overriding any laws the legislature has passed. A February study by the Public Religion Research Institute found that 64 percent of Floridians believe abortion should be legal in all or most cases.