Trump's Own Tweets Come Back to Bite Him in Georgia Indictment
Trump was charged with attempts to overthrow the 2020 election—and 12 of his own tweets were used as proof.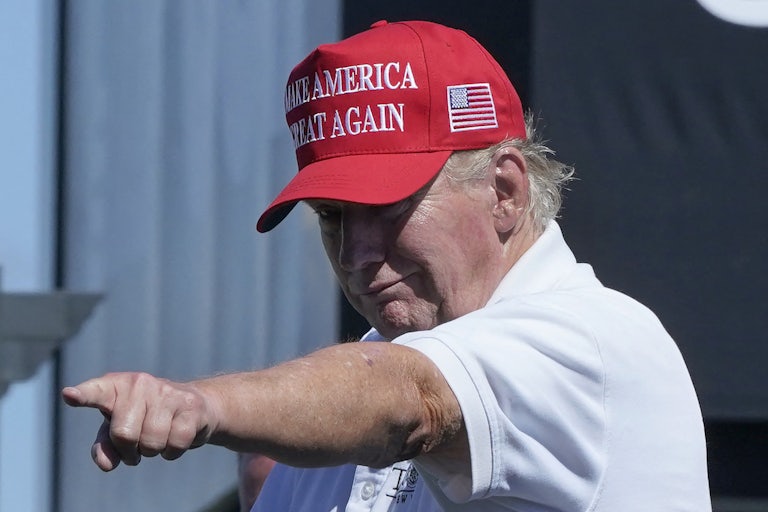 TIMOTHY A. CLARY/AFP/Getty Images
Before he was banned from the platform for inciting violence, Donald Trump's favorite social media network was Twitter. But he may come to regret tweeting so much, now that the Georgia indictment cites 12 of his own tweets as evidence.
Trump was indicted for a historic fourth time late Monday, and charged with racketeering for trying to overturn Georgia's 2020 election results. A date has not yet been set for his arraignment.
The indictment cites a dozen of Trump's tweets about Georgia state legislature hearings on evidence of alleged election fraud (none was found), pressuring state officials to change the outcome in his favor, and pressuring then-Vice President Mike Pence to change the outcome in Trump's favor.
Here are the 12 tweets that came back to haunt him:
1. On December 3, 2020, Trump tweeted, "Georgia hearings now on @OANN. Amazing!"
2. Trump later tweeted, ""Wow! Blockbuster testimony taking place right now in Georgia. Ballot stuffing by Dems when Republicans were forced to leave the large counting room. Plenty more coming, but this alone leads to an easy win of the State!"
3. Trump then claimed without evidence that "people in Georgia got caught cold bringing in massive numbers of ballots and putting them in "voting" machines. Great job @BrianKempGA!"
4. On December 6, 2020, Georgia Governor Brian Kemp and Lieutenant Governor Geoff Duncan issued a joint statement saying it would be unconstitutional to name pro-Trump electors, as Trump was pressuring them to do, because Joe Biden won the state.
"Gee, what a surprise," Trump tweeted. ""Has anyone informed the so-called (says he has no power to do anything!) Governor @BrianKempGA & his puppet Lt. Governor @GeoffDuncanGA, that they could easily solve this mess, & WIN. Signature verification & call a Special Session. So easy!"
5. Trump called again for a special session to appoint new electors on December 14, tweeting, "What a fool Governor @BrianKempGA of Georgia is. Could have been so easy, but now we have to do it the hard way. Demand this clown call a Special Session and open up signature verification, NOW. Otherwise, could be a bad day for two GREAT Senators on January 5th."
6. On December 30, 2020, when a Georgia Senate Judiciary subcommittee held a hearing on the election, Trump said, "Hearings from Atlanta on the Georgia Election overturn now being broadcast. Check it out. @OANN @newsmax and many more. @BrianKempGA should resign from office. He is an obstructionist who refuses to admit that we won Georgia, BIG! Also won the other Swing States."
7. An hour later, he tweeted, "Hearings from Atlanta on the Georgia Election overturn now being broadcast LIVE via @RSBNetwork!"
8. After the hearing had ended, Trump tweeted, "We now have far more votes than needed to flip Georgia in the Presidential race. Massive VOTER FRAUD took place. Thank you to the Georgia Legislature for today's revealing meeting!"
9. Trump also tweeted on January 3, 2021, the day after his infamous phone call begging Georgia Secretary of State Brad Raffensperger to "find" 11,780 votes—the exact number needed to flip the state to Trump.
"I spoke to Secretary of State Brad Raffensperger yesterday about Fulton County and voter fraud in Georgia," Trump wrote. "He was unwilling, or unable, to answer questions such as the 'ballots under table' scam, ballot destruction, out of state 'voters', dead voters, and more. He has no clue!"
10. Finally, in the 24 hours before the January 6 insurrection, Trump fired off several tweets about Pence. "The Vice President has the power to reject fraudulently chosen electors," Trump wrote on January 5, 2021 (the vice president does not).
11. The morning of January 6, Trump tweeted, "If Vice President @Mike_Pence comes through for us, we will win the Presidency. Many States want to decertify the mistake they made in certifying incorrect & even fraudulent numbers in a process NOT approved by their State Legislatures (which it must be). Mike can send it back!"
12. A few hours later, as his supporters gathered outside the White House for what would turn into the angry mob, Trump tweeted, "States want to correct their votes, which they now know were based on irregularities and fraud, plus corrupt process never received legislative approval. All Mike Pence has to do is send them back to the States, AND WE WIN. Do it Mike, this is a time for extreme courage!"