Trump Can't Pardon Himself Out of the Georgia Indictment
And a Republican governor can't save him either.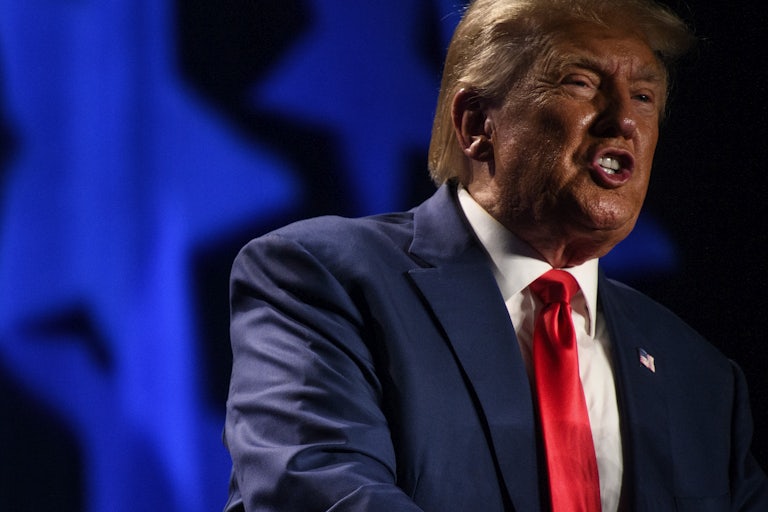 Melissa Sue Gerrits/Getty Images
Donald Trump won't be able to easily escape his latest indictment.
Trump was indicted for a historic fourth time late Monday. He and 18 co-defendants were charged with racketeering for trying to overturn Georgia's 2020 election results. A date has not been set for Trump's arraignment, but arrest warrants have been issued for him and the other co-defendants. They have until August 25 at noon to surrender to state authorities.
Shockingly, Trump is still the frontrunner for the Republican presidential nomination. And if he were to win in 2024, he would very likely try to pardon himself for the federal charges against him. He reportedly already considered doing so just before he left office.
But he won't be able to snap his fingers and make the Georgia charges go away.
In a state case, Trump wouldn't be able to self-pardon—and when it comes to Georgia, a Republican governor wouldn't be able to save him either.
Georgia is one of just five states that does not issue pardons through the governor's office. The state's constitution dictates that pardons are determined by the Board of Paroles and Pardons. The board's five members are appointed for seven-year terms by the governor and then confirmed by the state Senate. From then on, they operate as an independent body.
To be eligible for a pardon, a person must have completed a "full sentence obligation" and paid all fines. They must also have been "free of supervision (custodial or non-custodial) and/or criminal involvement" for five consecutive years after completing their sentence and for the five consecutive years before applying for a pardon.

So if Trump is found guilty, it will be at least five years before he can even ask for a pardon. It will be even longer if he is actually forced to serve a prison sentence. Racketeering charges in Georgia carry a minimum sentence of five years in prison and/or a minimum fine of $25,000.
A big part of why Trump is running for president is likely so he can simply stay out of prison. It's looking like that may no longer be an option.