Trump Wishes Jews Happy New Year by Declaring Most of Them Want to "Destroy America"
Donald Trump isn't even trying to hide the antisemitism in his Rosh Hashanah message.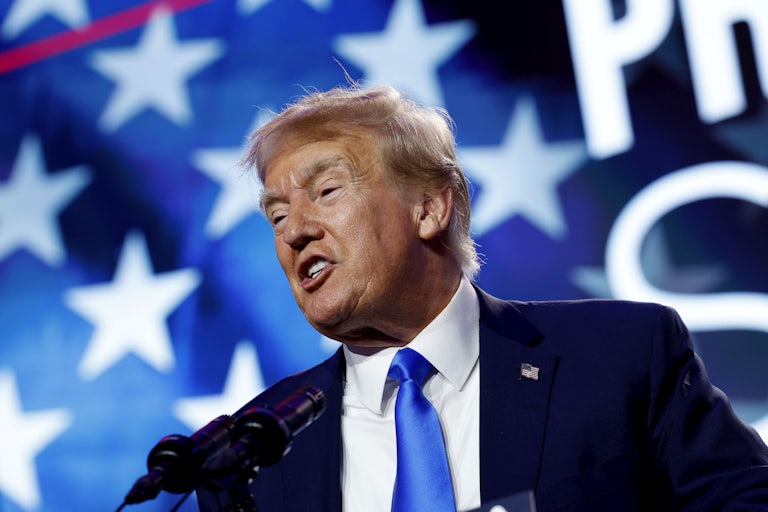 Anna Moneymaker/Getty Images
Donald Trump marked Rosh Hashanah, the Jewish new year, by threatening American Jews.
Trump shared a graphic on Truth Social Sunday night detailing everything that he did supposedly in support of Jewish people. This included moving the U.S. Embassy in Israel to Jerusalem from Tel Aviv and recognizing Israeli sovereignty over the Golan Heights and settlements in the West Bank. All of these moves were highly controversial and widely decried when Trump announced them.
"Just a quick reminder for liberal Jews who voted to destroy America & Israel because you believed false narratives!" the image was captioned. "Let's hope you learned from your mistake & make better choices moving forward! Happy New Year!"
Seven in 10 American Jews identify with or lean toward the Democratic Party, according to polling from the Pew Research Center.

For someone who says he is incredibly pro-Israel, Trump has a habit of threatening Jewish people in his own country. In October, he accused American Jews of failing to praise his Israel policies enough.

"No President has done more for Israel than I have. Somewhat surprisingly, however, our wonderful Evangelicals are far more appreciative of this than the people of the Jewish faith, especially those living in the U.S.," he wrote on Truth Social. "U.S. Jews have to get their act together and appreciate what they have in Israel—Before it is too late!"
Then, just two months later, he criticized Jewish leaders for their lack of "loyalty" toward him, despite the fact that he had just had dinner with neo-Nazis Nick Fuentes and Kanye West.
"Jewish Leaders forgot that I was the best, by far, President for Israel," Trump wrote on Truth Social. "They should be ashamed of themselves. This lack of loyalty to their greatest friends and allies is why large numbers in Congress, and so many others, have stopped giving support to Israel."

In the nearly a year since that now-infamous dinner, Trump has yet to condemn Fuentes or West for their open embrace of Nazi beliefs, admiration of Hitler, and Holocaust denialism.