Ron DeSantis Promises Extrajudicial Killings at the Border
The Florida governor has a horrifying new plan for what he would do if elected president.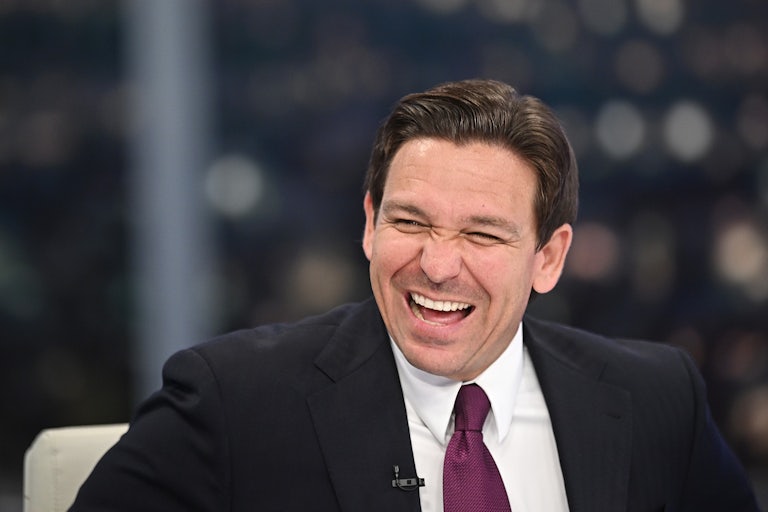 Steven Ferdman/Getty Images
Ron DeSantis has a new strategy for tackling the immigration crisis: killing alleged cartel members on sight.
The Florida governor laid out the policy during a Wednesday night interview with Fox's Sean Hannity.
"We're using lethal force against the cartels. If they're bringing fentanyl in, breaking into our country, we're going to leave them stone cold dead at the border," DeSantis said, prompting cheers from the audience. "Trust me, they will get the message."
DeSantis has used the phrase "stone cold dead" before when discussing the border. The DeSantis-aligned super PAC Never Back Down has even made the phrase the focus of a campaign ad.
It's not clear how DeSantis plans to identify these supposed cartel members before executing them. He tried to clarify the plan a bit during a Tuesday night interview with CBS, saying, "There's not going to be authorization to just shoot somebody like that, but when somebody's got a backpack on and they're breaking through the wall, you know, that's hostile intent and you have every right to take action under those circumstances."
He said that only people who "appeared" to be members of drug cartels would be targets of deadly force. But he offered no details on what makes someone "appear" to be a cartel member.
Republicans argue that the influx of migrants at the southern U.S. border is primarily members of cartels sneaking dangerous drugs into the country. But immigration authorities say that nearly all drugs smuggled into the United States are brought in by people who can legally cross the border, NPR reported in August. More than half of the drug mules are U.S. citizens. Almost none are migrants seeking asylum.
Critics have also pointed out that DeSantis's plan is a violation of the Torture Victim Protection Act of 1991, which prohibits government officials from committing extrajudicial killings. DeSantis should know this, having served as a military lawyer. But considering the allegations made about him during his time working at Guantánamo Bay, maybe he doesn't care.