BP Has Reached Peak Looney
The petroleum giant is parting ways with the CEO who was supposed to shepherd the firm to the future.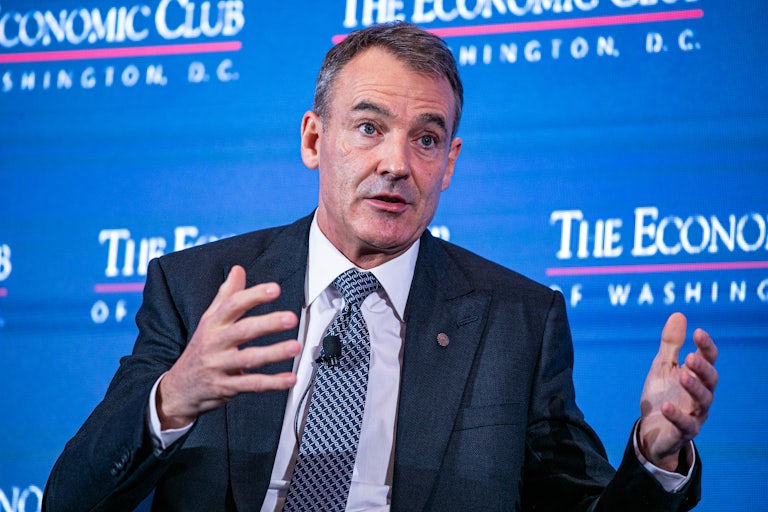 Valerie Plesch/Getty Images
BP CEO Bernard Looney doing what he does best—gesticulating in front of a backdrop at a fancy economics conference
BP CEO Bernard Looney has resigned. On Tuesday afternoon, the Financial Times reported that his departure was the result of his failure to disclose the "extent" of his "past personal relationships with colleagues," per BP. "He did not provide details of all relationships and accepts he was obligated to make more complete disclosure," the company said, noting that that it was conducting an ongoing investigation into his conduct following multiple "allegations." Looney, 53, who has worked at BP since 1991, was brought on as CEO in 2020 as a fresh face to pivot the company formerly known as British Petroleum toward the future. He made $12 million last year, which is more than double what he took home in 2021.
Details about Looney's departure are still scant. But in a less than auspicious coincidence, the news came on the same day that International Energy Agency head Fatih Birol announced that, for the first time ever, the agency projects peak demand for coal, oil, and gas to arrive before the end of this decade. He called it the "beginning of the end of the fossil fuel era." In 2018, two years before Looney took office, fossil fuel pollution was found to be responsible for one in five deaths worldwide.
Under Looney's watch—during which time there has been a drumbeat of catastrophic, climate change–fueled storms, floods, and heat waves—BP first made and then broke its much-hyped plans to scale back oil and gas production and double down on lower-carbon ventures like electric vehicle transport, wind, and solar. Like its competitors, the company saw record profits from oil and gas extraction in 2022. That made it less attractive to spend big on less profitable low-carbon businesses.
Earlier this year, BP, which has been linked to the 1953 coup against Iranian Prime Minister Mohammed Mossadegh, announced that it would look to cut fossil fuel production by 25 percent against 2019 levels by 2030—not by 40 percent as it had pledged earlier. BP's spending on low-carbon ventures, it should be said, has always been small. The U.K.-based think tank Common Wealth found that, in 2022, BP spent 14 times as much on shareholder payouts (including both dividends and share buybacks) as it did on "low carbon" ventures.
BP is not Beyond Petroleum, as it once tried to brand itself. It is decidedly, though, Beyond Looney.