MAGA State Senator Goes There: "Do You Want a Civil War?"
A far-right state senator is warning that Donald Trump's trial could lead to a civil war.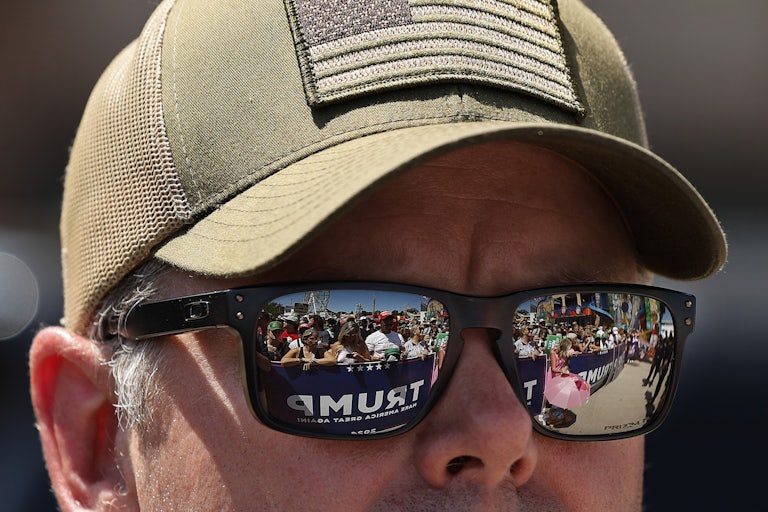 Chip Somodevilla/Getty Images
A Secret Service agent keeps an eye on Trump supporters as the former president visits the Iowa State Fair, August 12, 2023.
Georgia's far-right state Senator Colton Moore suggested that a civil war will break out when Donald Trump goes to trial for trying to overturn the 2020 presidential election.
Trump surrendered to Georgia authorities last week on charges of felony racketeering for trying to overturn the state's election results. He will be arraigned next week—and Moore is already sounding the alarms.
"I told one senator, I said, 'Listen … we've got to put our heads together and figure this out. We need to be taking action right now. Because if we don't, our constituencies are going to be fighting it in the streets,'" Moore said Tuesday on Steve Bannon's War Room.
"Do you want a civil war? I don't want a civil war. I don't want to have to draw my rifle. I want to make this problem go away with my legislative means of doing so."
Moore has also urged his fellow legislators to defund Fani Willis, the Fulton County District Attorney who investigated Trump. Moore called two weeks ago for a special session of the Georgia state legislature to investigate and potentially impeach Willis. Only a handful of other lawmakers have backed his proposal, which is unlikely to work and has been shut down by Georgia's Republican Governor Brian Kemp.
There is reason to be concerned about how people will react to Trump's trial. A poll conducted by the Atlanta Journal-Constitution found that 61 percent of likely Republican Party primary voters believe the 2020 election was fraudulent. A lawmaker talking about civil war is dangerous and incredibly irresponsible.
Frighteningly, Moore is now at least the third Republican to mention civil war in relation to Trump's many indictments. Sarah Palin called for people to "rise up" and potentially start a civil war over Donald Trump's arrest in Georgia. And Trump himself mused about a potential civil war during a recent interview with Tucker Carlson.
Republicans' tacit condoning—and sometimes explicit encouragement—of violent attacks is dangerous. Political violence has been steadily increasing in recent years, and it can be directly traced back to this kind of rhetoric.