What Did Tucker Carlson Say About Fox Nation That Was So Bad?
The recently fired prime-time anchor's hot-mic misadventure adds to a growing pile of material suggesting his behavior behind the scenes ran afoul of his bosses.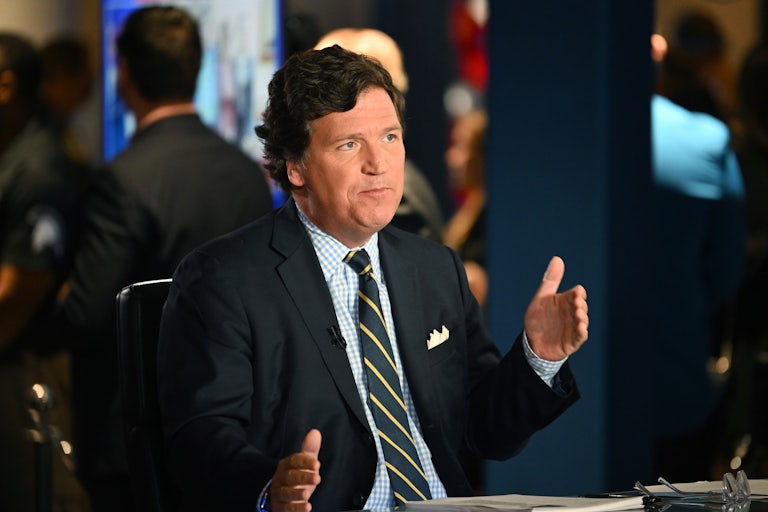 Jason Koerner/Getty Images
Tucker Carlson thought that Fox Nation's website "sucks" and that people don't even watch it anyway.
In newly leaked footage, the since-ousted right-wing media figurehead is seen complaining about Fox's subscription service during a phone conversation with an unknown figure, as they appeared to be discussing Carlson's forthcoming interview with alleged rapist and sex-trafficker Andrew Tate. Tate has been banned from several online platforms while amassing notoriety as a crypto-peddler and proud, self-proclaimed sexist and misogynist.

"I don't want to be a slave to Fox Nation, which I don't think that people watch anyway," Carlson said. "We're gonna—because, you know, I'm like a representative of the American media now, speaking to an exile in Romania and welcoming him back into the brotherhood of journalists," Carlson continued, apparently eager to welcome the alleged sexual criminal back into his "brotherhood."

The phone conversation also included the two interlocutors going back and forth on whether the dress code of the interview could be toned down, to accommodate the "panicking" Tate who perhaps didn't want to dress how he might in a courtroom, for instance.

Carlson initially resisted the request, as he wanted the interview to look more official, and not "like bro talk," since it would air on "the nighttime show."

"Yeah, but the majority of it, like, if we go, like, 45 minutes, it's going to be for Fox Nation," the caller on the other end responded.

"But nobody's going to watch it on Fox Nation. Nobody watches Fox Nation because the site sucks," Carlson retorted. "So I'd really like to just put the—dump the whole thing on YouTube," he continued.

Carlson seems to have lost out on the fashion debate; Media Matters notes that in the subsequent interview Carlson warmly welcomed a T-shirt-clad Tate as Carlson toned himself down by wearing a sweater. Carlson, while rumored to have been fired perhaps for his insubordination to executives, was on his best behavior following his marching orders and encouraging viewers to "watch the full Andrew Tate interview on Fox Nation right after this show."

This footage—which may have been leaked by Fox itself—is now just one more clip within a larger reel of Carlson's past behavior while at the network. Last week, The New York Times reported on footage in which Carlson is heard discussing his "postmenopausal fans" and whether they will approve of how he looks; in another, Carlson is overheard describing a woman whom he finds "yummy."