Elon Musk Reportedly Lied About How Many Monkeys His Neuralink Implant Killed
Musk insists that no monkeys died in trials and that the brain implant is ready for human trials. A horrifying new WIRED report suggests otherwise.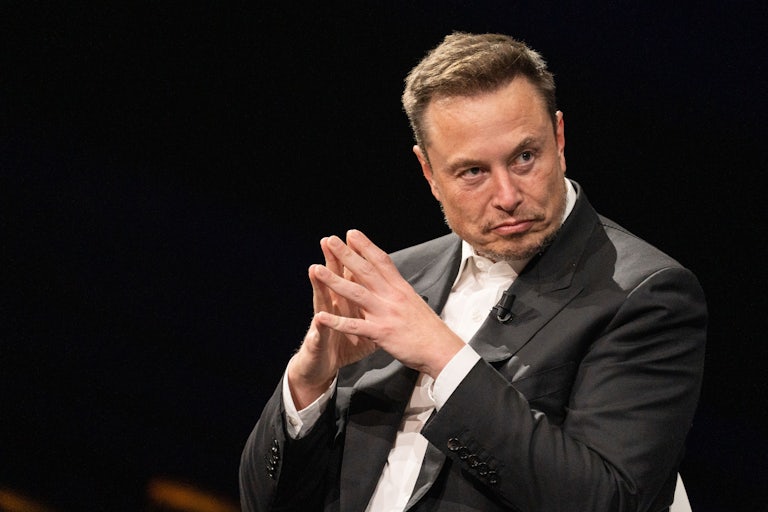 Nathan Laine/Bloomberg/Getty Images
Medical implant company Neuralink killed at least a dozen monkeys through animal testing, after first subjecting the primates to horrifying conditions, despite founder Elon Musk's claims otherwise, according to a new WIRED report.
Musk announced Wednesday that Neuralink was ready to start human trials, despite widespread concerns about the effects of the implant and the company's animal testing methods. But Musk had assured his followers 10 days earlier that no monkey test subjects died due to the implant. Instead, Musk insisted that the company had conducted its early tests on monkeys that were already close to death.
Except, it turns out that wasn't the case. That same day, WIRED published a report that blew Musk's claim to bits.
Musk's statement is "ridiculous" and even a "straight fabrication," a former Neuralink employee told WIRED, speaking anonymously. "We had these monkeys for a year or so before any surgery was performed."
Neuralink's monkeys were also fairly young, according to a doctoral candidate who is working at the California National Primate Research Center, which helped Neuralink conduct its tests. The candidate, also speaking anonymously, told WIRED that "it's hard to imagine these monkeys, who were not adults, were terminal for some reason."
Veterinary records show that as many as a dozen monkeys had to be euthanized after they were implanted with Neuralink devices because they developed agonizing complications, WIRED reported Wednesday. The monkeys' issues included bloody diarrhea, partial paralysis, and cerebral edema, or "brain swelling."
One monkey dislodged an implant connector because it kept yanking on the device. When veterinarians conducted surgery to repair the device, they found the implant area had become infected—and couldn't be healed because the device was blocking their access.
Another monkey kept picking at her implant until it bled, and would repeatedly press her head to the floor in a sign of pain or discomfort. She became lethargic, opting to lie on the floor of her cage and hold hands with her roommate, until she saw lab workers. Then she would start to shake uncontrollably. After she was euthanized, a necropsy revealed the implant had severely damaged her brain.
Yet another monkey had to be euthanized after his implant screws became so loose that the whole device could "easily be lifted out," according to the necropsy report. The report also said that "the failure of this implant can be considered purely mechanical."
Neuralink is already under two federal investigations over its animal testing practices. The Department of Agriculture opened an investigation in December 2022. At the time, Reuters reported that Neuralink had killed about 1,500 animals during testing since 2018.
The Department of Transportation opened another investigation in 2023 over allegations that Neuralink was transporting antibiotic-resistant pathogens in an unsafe manner.