Whoa: Jack Smith Just Threw Down at Donald Trump in Big Way
The special counsel would like the former president to please stop talking already.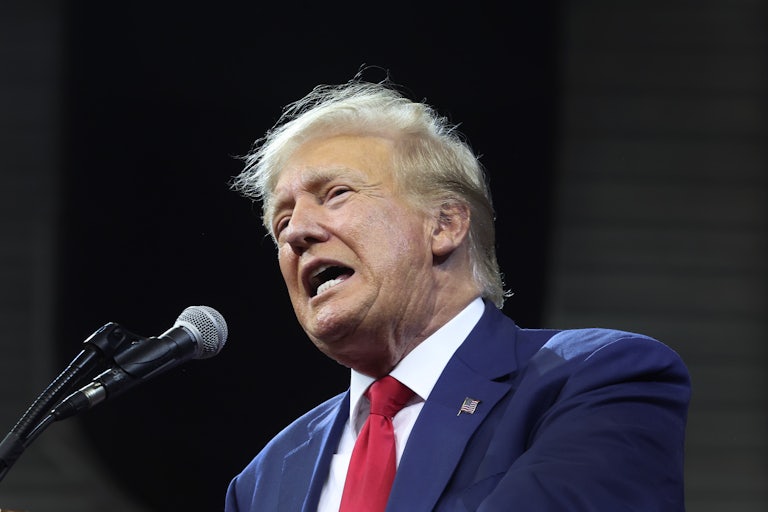 Scott Olson/Getty Images
Special Counsel Jack Smith and his team are seeking a gag order against the former president to limit what he says in the run-up to his trial on charges that he participated in a plot to overturn the 2020 election.
To that end, Smith has asked a federal judge in Washington, D.C., to impose a "narrowly tailored" order limiting Trump—who is famous for saying literally anything that sluices through his brain at any particular moment—from making public statements that could "present a serious and substantial danger of prejudicing" the trial.
A copy of the government filing was released on Friday—and it is unsparing in its criticism of Trump.
Smith's office is accusing Trump of engaging in a "disinformation" campaign and of intimidating witnesses, prosecutors, and the court itself.
"As set forth in the indictment, after election day in 2020, the defendant launched a disinformation campaign in which he publicly and widely broadcast knowingly false claims that there had been outcome-determinative fraud in the presidential election, and that he had actually won," federal prosecutors wrote in their filing. "In service of his criminal conspiracies, through false public statements, the defendant sought to erode public faith in the administration of the election and intimidate individuals who refuted his lies. The defendant is now attempting to do the same thing in this criminal case—to undermine confidence in the criminal justice system and prejudice the jury pool through disparaging and inflammatory attacks on the citizens of this District, the Court, prosecutors, and prospective witnesses."
Trump has been indicted in four separate cases—and he has repeatedly attacked witnesses, co-defendants, and prosecutors involved in all of them. In March, for example, he posted a photo of himself wielding a baseball bat next to Manhattan District Attorney Alvin Bragg's head. (Bragg was the first prosecutor to indict the former president for alleged hush-money payments made to porn actress Stormy Daniels.)
If the gag order is granted, this would be another major setback for Trump—though his tendency to overshare in public settings has added more to his pile of legal woes than it has solved, so it could be that Smith is doing the former president a major favor.