Mitt Romney Reveals Why Republicans Are So Two-Faced About Trump
An excerpt from Romney's biography describes how Republicans would suck up to Trump in public, then criticize and mock him in private.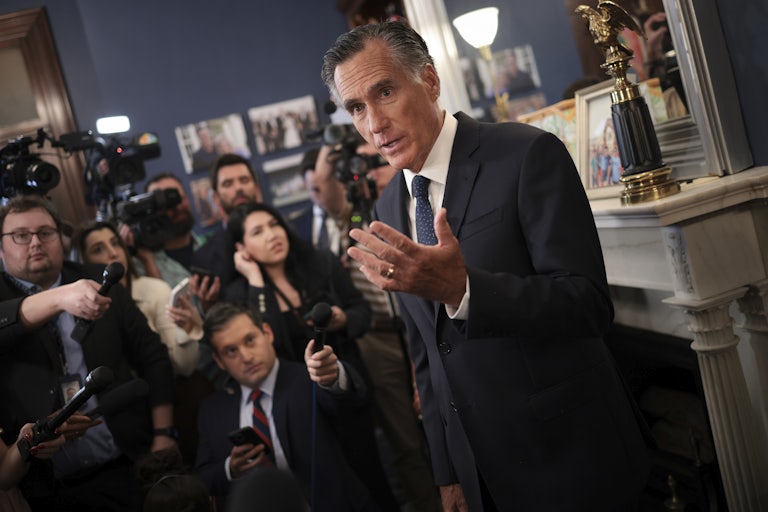 Win McNamee/Getty Images
Mitt Romney revealed that "almost without exception" Republicans feel exactly the same way he does about Donald Trump. In fact, they've even laughed at him behind his back.
In a new biography of the Utah senator by McKay Coppins, an excerpt of which was published in The Atlantic, Romney revealed that his biggest surprise when he was elected to the Senate was that many of his Republican colleagues shared his view of the former president.
Romney recalled one senior senator who said, "[Trump] has none of the qualities you would want in a president, and all of the qualities you wouldn't."
While publicly they presented as loyal party members, behind closed doors, Senate members would ridicule Trump for his stupidity.

Romney recalled that Trump stopped by a weekly Senate luncheon in March 2019. This was just two days after special counsel Robert Mueller's probe ended without proving that Trump colluded with Russia during the 2016 election.

Trump's arrival was met with a standing ovation from the senators, but after Trump made his rambling remarks and departed the room, the Republican caucus burst out laughing.

Besides viewing Trump as a laughingstock, according to Romney, some Republicans privately agree on another major thing: that Trump was guilty.

In his biography, Romney recalls a January 2020 conversation he had with then–Senate Majority Leader Mitch McConnell, during a break in the Senate impeachment proceedings against Trump.
"They nailed him," McConnell said to Romney as he passed.
Caught off-guard, Romney tried to be diplomatic and responded along party lines. "Well, the defense will say that Trump was just investigating corruption by the Bidens," he told McConnell.
"If you believe that," McConnell replied, "I've got a bridge I can sell you." The biography clarified that McConnell did not remember this conversation and denied that this was his thinking at the time.

Romney attributed some of the two-faced behavior of his colleagues to their fear of violent retribution from their voter base. Coppins wrote that "after January 6, a new, more existential brand of cowardice had emerged."
According to Romney, one senator wanted to vote for Trump's second impeachment but feared for his family's safety if he did.

Romney was the only member of his party to vote to convict Trump in the 2020 impeachment trial.
How does the Utah senator account for the rest of his party's behavior? "A very large portion of my party really doesn't believe in the Constitution," Romney said.