Atlanta Activists Want to Let the People Decide on Cop City
Organizers are pushing a referendum to let the public vote on whether their tax dollars should be used for a massive police facility.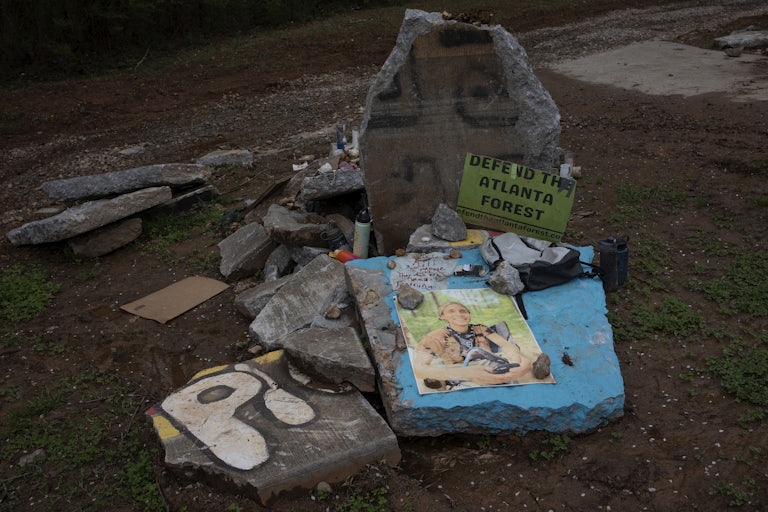 Andrew Lichtenstein/Corbis/Getty Images
Environmental activists reoccupy a preserved forest in Atlanta that is scheduled to be developed as a police training center, on March 4.
Protesters against Cop City are not backing down.
The Atlanta City Council on Tuesday voted to approve $67 million in taxpayer money for a massive police training facility—all after police officers indiscriminately arrested protesters and even killed one in cold blood.
And the very next day, organizers announced a public referendum campaign to demand the city repeal the lease agreement for the forest land set to be razed to construct the massive $90 million police training facility.
Organizers need at least 75,000 signatures from registered voters in the next 60 days to make it on the ballot this November.
"The Atlanta City Council has again turned its back on working class, particularly Black, Atlantans," said organizer Kamau Franklin. "The overwhelming majority of people opposed Cop City but the city council chose again to side with the police & corporations to continue to criminalize our community—which is why it is time for the people of Atlanta to decide."
Organizers' decision to move this to a public vote comes after hundreds of Atlantans flooded City Hall to protest the approval of the Cop City funding.

"Viva viva, Tortuguita!" the crowd chanted, early Tuesday morning, in reference to Manuel Esteban Paez Terán, known as Tortuguita, who was shot and killed by Atlanta police in January. Contrary to police claims that the officers only shot after being shot at first, an independent autopsy found Tortuguita's hands were raised during the shooting. Even worse, police shot Tortuguita at least 57 times.
"The Atlanta community has repeatedly drawn attention to the serious harms posed by Cop City, including environmental damage and the dangers of a militarized police force that have the potential of impacting the everyday lives of Black Atlantans," said R. Gary Spencer, senior counsel for the NAACP Legal Defense and Educational Fund. "But instead of addressing these concerns, Georgia officials have responded with police violence, targeted arrests, and unduly harsh charging decisions. As a result, Atlantans have witnessed the police killing of Manuel 'Tortuguita' Esteban Paez Terán, domestic terrorism charges against activists based on tenuous evidence, and felony charges against protestors for simply distributing flyers."
In March, dozens of people were indiscriminately arrested at a music festival organized by protesters. They were detained on accusations of participating in vandalism and arson at a construction site that was over a mile away from where the music festival was being held, some even charged with domestic terrorism. Worse, many were arrested and denied bond on the grounds of having muddy shoes (they were all in a forest, where it had rained), or being "part of the team" because they were wearing black.
Last week, Atlanta police used a heavy-duty police truck and hordes of riot police to arrest just three individuals who had been helping organize bail funds and legal support for protesters. The trio were arrested on flimsy charges of "money laundering" and "charity fraud." Even the presiding judge seemed uncompelled by the prosecution. "I don't find it very impressive," he said. "There's not a lot of meat on the bones."
"The Atlanta community has repeatedly drawn attention to the serious harms posed. Cop City symbolizes the failures of a public safety system that continues to weaponize law enforcement against communities rather than invest in resources that would actually produce the safety and stability they need," Spencer said. "The voice of the people has been repeatedly ignored, so it is time for the residents of Atlanta to exercise their political will and decide the fate of Cop City. This referendum does just that."