Republican Rep. Torches GOP for Lacking a Single Fact on Biden Impeachment
Republican Representative Ken Buck is blasting his own party for its impeachment inquiry of Joe Biden.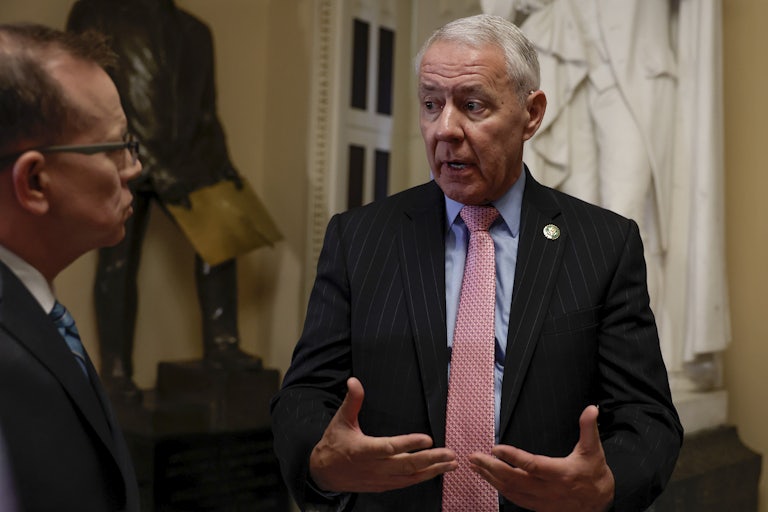 Anna Moneymaker/Getty Images
Representative Ken Buck says he has yet to hear a single "accurate fact" from his fellow Republicans about the impeachment inquiry into Joe Biden.
House Speaker Kevin McCarthy launched an impeachment inquiry into the president Tuesday, after months of Republicans insisting Biden is guilty of corruption. The GOP has yet to produce any actual evidence of their claims.
CNN's Manu Raju asked Buck Friday if he had changed his mind on the impeachment inquiry following a House Republican conference meeting, and the Colorado representative replied that he hadn't gone.
"I haven't heard an accurate fact in conference in a long time," he said. "I'm not going to waste my time."
This marks a distinct break from Buck's reaction immediately after McCarthy opened the inquiry. "I think it's a good move," Buck said at the time. "We have to focus on spending, we have to make sure the government doesn't shut down.… I think taking this off the table and not having a distraction is a good move."
Despite Buck's flipping, he remains one of the loudest anti-impeachment voices in the Republican Party. He has accused McCarthy of using "impeachment theater" to try to distract Republicans from the fact that the government will likely need to increase its budget in order to avoid a shutdown. Many hard-line conservatives like Buck want to scale federal spending back dramatically.
Buck has also called out his impeachment-eager colleagues, such as Marjorie Taylor Greene. He slammed her impeachment mania on Monday as "absurd."
"The time for impeachment is the time when there's evidence linking President Biden—if there's evidence—linking President Biden to a high crime or misdemeanor," Buck said. "That doesn't exist right now."
Buck's resistance has reached the point that his own party is turning on him. There is even an in-party effort to find a candidate who can launch a primary challenge against him.