Trump County in Iowa Ousts Conspiracy Theorist, Elects Democrat Instead
The election in Iowa's Warren County offers major lessons for Democrats organizing in other red states.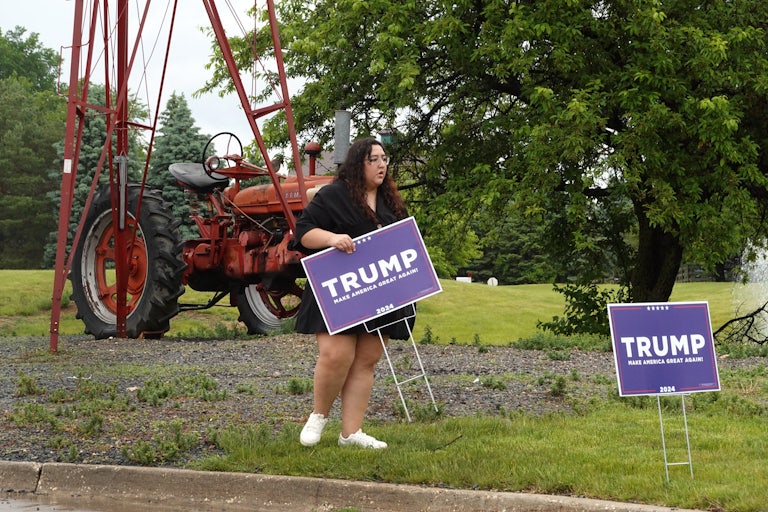 Scott Olson/Getty Images
Voters in a small pro-Trump county in Iowa have voted out an election auditor who repeatedly shared conspiracy theories, including about QAnon and the 2020 election. Then they replaced him with a Democrat.
Warren County voted 57.3 percent for Donald Trump in 2020, slightly higher than the overall state outcome. The county's all-Republican board of supervisors appointed David Whipple as county auditor in June. Iowa's county auditors oversee elections.
Whipple's appointment quickly sparked outrage after his social media activity came to light. After the 2020 election, Whipple made multiple posts on Facebook insisting that the vote had been fraudulent, despite widespread evidence disproving that claim. He also shared conspiracy theories from QAnon and about the 9/11 attacks.
In the two weeks following Whipple's appointment, county Democrats petitioned to force a special election. They gathered 3,400 signatures, about 1,000 more than they needed. Democratic deputy auditor Kimberly Sheets announced she would run against Whipple—so he placed her on leave.
Sheets handily defeated Whipple on Tuesday, winning 66.5 percent of the vote. Whipple walked away with just 33.4 percent.
Sheets's victory is an unusual plot twist in Iowa, which has been moving decidedly rightward in recent election cycles. But it reflects a larger trend that was seen during the 2022 midterms. Voters rejected conspiracy theorists across the country, resulting in major local Democratic wins.