Matt Schlapp Tried to Settle Sexual Harassment Lawsuit With Six-Figure Offer
American Conservative Union chairman Matt Schlapp has denied the accusations against him. But a new report says he secretly tried to settle.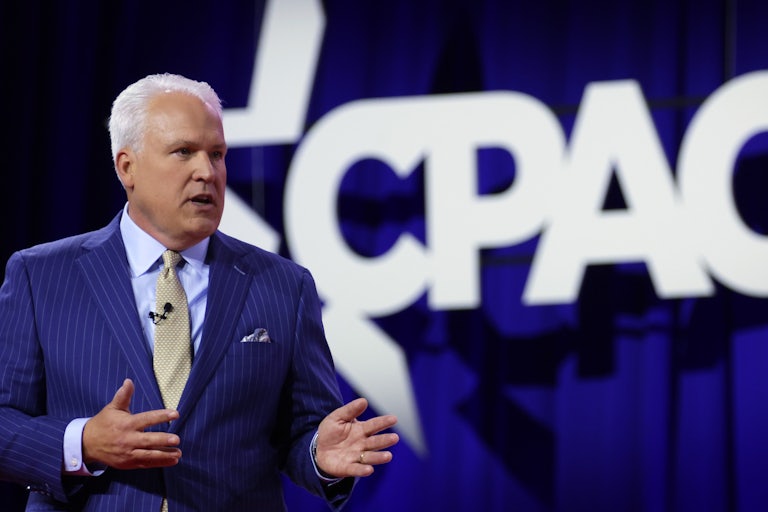 Alex Wong/Getty Images
Conservative activist Matt Schlapp tried to settle the multimillion-dollar sexual battery and defamation lawsuit against him, but his offer was denied.
Schlapp is the head of the American Conservative Union, which organizes the annual Conservative Political Action Committee Conference. He and his wife are being sued by Republican strategist Carlton Huffman, who accused Schlapp of groping him while Huffman was working as a staffer on Herschel Walker's Senate campaign.
Schlapp in March offered Huffman a sum in the low six figures to settle the suit, The Daily Beast reported Tuesday, citing anonymous sources with direct knowledge of the situation. Huffman countered with a significantly higher amount, which Schlapp turned down.
The Schlapps' publicist denied that they had offered to settle, telling The Daily Beast, "From the outset Mr. and Mrs. Schlapp have been and remain prepared to go to trial and are confident of prevailing in court."
Huffman's lawyer called the denial "categorically false."
Huffman alleges that Schlapp made "sustained and unwanted and unsolicited" sexual contact with him while he was driving the ACU chief back from an Atlanta bar in October. Huffman says Schlapp bought him drinks at two different bars and then proceeded to grope his crotch on the drive back to Schlapp's hotel. When they arrived at the hotel, Schlapp allegedly invited Huffman to his room.
Huffman recorded several tearful videos of himself describing what happened. "Matt Schlapp of the CPAC grabbed my junk and pummeled it at length, and I'm sitting there thinking what the hell is going on, that this person is literally doing this to me," he says in one video.
"From the bar to the Hilton Garden Inn, he has his hands on me. And I feel so fucking dirty. I feel so fucking dirty."
The revelation of Schlapp's settlement offer may cause more people to doubt his denials. He reportedly made the offer without consulting the ACU board. While a settlement is not technically an admission of guilt, this is the latest step Schlapp has taken without including the ACU.
In addition to not letting the board vote on the settlement offer, Schlapp has refused to allow for an internal investigation and has gone out of his way to avoid discussing the accusation during board meetings. Multiple sources described his actions to The Daily Beast as "bizarre."
Schlapp's behavior is also starting to alienate former allies. Charlie Gerow, who resigned as ACU vice president on Friday, used to be a full-throated Schlapp defender. But when he resigned, he urged the board to investigate any and all allegations against Schlapp. The next day, two more sexual misconduct accusations were revealed to have been made.