Who Is Doug Burgum? More on the Midwestern Presidential Candidate
The North Dakota governor has announced his bid for president. Here's what his record looks like.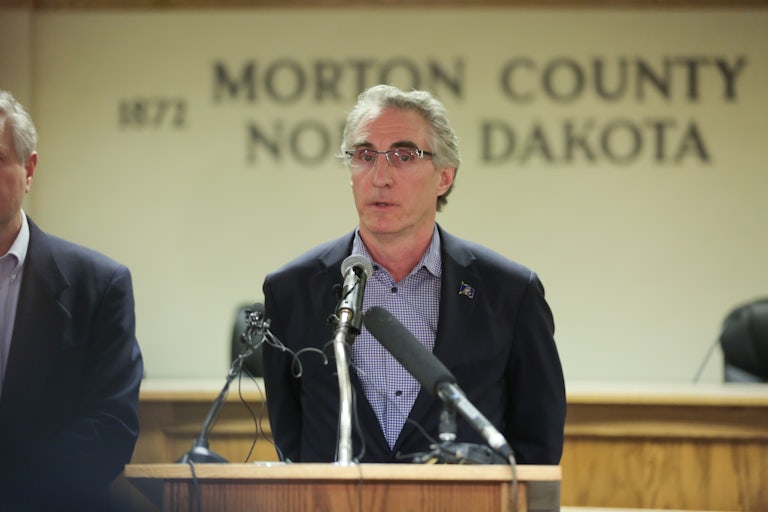 Stephen Yang/Getty Images
North Dakota Governor Doug Burgum
North Dakota Governor Doug Burgum has officially thrown his hat in the ever-widening ring to become the 2024 Republican nominee for president. And apparently, much of the country has no idea who he is.
Upon the release of his initial teaser video earlier this week, much of the online reaction ranged from "Who is this?" to "Well, this is a great tourism video for North Dakota." Even The New York Times' Bret Stephens conceded he didn't know who Burgum was.
But beyond the humorous reaction to his announcement, Burgum's candidacy, and his governorship, is quite distinct from the rest of the Republican Party—which is steeped in cultural attacks on millions of people's civil rights, teacher's and student's rights to maintain a free education, and hyperfixation on crime and migrants.
On Tuesday, Burgum announced his candidacy with an op-ed in The Wall Street Journal, with no mention of any of those talking points.
"We need a change in the White House. We need a new leader for a changing economy," he wrote simply. "That's why I'm announcing my run for president today."
Of course, Republicans, no matter how measured they may appear, have generally similar views when it comes down to it. And Burgum is no exception.
Burgum was born in small-town North Dakota, moving on to study business at Stanford after graduating from North Dakota State University. While surrounded by the Palo Alto atmosphere, Burgum befriended Steve Ballmer, who would go on to become Microsoft's CEO.
After graduation, Burgum moved to Chicago to work as a consultant for McKinsey. Shortly thereafter, the North Dakotan mortgaged $250,000 of inherited farmland to provide funds to software company Great Plains Software, becoming the president a year later. After years of growth, Burgum sold the company to Ballmer's Microsoft for a nice $1.1 billion. Burgum remained active in Microsoft and the North Dakota business community for years afterward.
Finally, in 2016, with no formal experience, Burgum announced his campaign to become governor of the state. He in fact lost the state Republican Party's endorsement contest but went on to win the primary election, and then the general handily. Burgum easily won reelection in 2020, despite facing a challenge not just from a Democrat but from a far-right candidate too.
Burgum has in many ways avoided the fray of Trump-adjacent chaos, even using his own money to boost Republicans in state legislative races who were running against more extreme far-right Trump-aligned candidates. Still, Burgum endorsed Trump in both 2016 and 2020, and enjoyed reciprocal endorsements from the twice-impeached, criminally indicted, and liable-for-sexual-abuse former president.
And though Burgum has attempted in his own way to prevent the furthest radicalization of his party in a state where there is not a likely electoral consequence for it anyhow, he has still signed numerous bills that are touchstones for the national Republican agenda.
In 2021, Burgum signed a bill banning the teaching of "critical race theory" in K-12 schools. The bill's text defined critical race theory as "the theory that racism is not merely the product of learned individual bias or prejudice, but that racism is systemically embedded in American society and the American legal system to facilitate racial inequality," which, as a reminder, is patently true when considering the ongoing ramifications of redlining, mass incarceration, or environmental racism, to name just a few examples.
And though Burgum called the 2020 state party's platform "divisive and divisional" with regard to LGBTQ issues, he has signed an array of anti-trans laws this year, including an almost total ban on gender-affirming care for people under the age of 18 and another that bans transgender people from using school bathrooms or locker rooms aligned with their identity. Burgum has also signed a near-total abortion ban, one of the strictest in the country.
Burgum has vetoed some bills, like one that threatened librarians with criminal prosecution unless they reviewed their collections for sexually explicit material and another that prohibited teachers and staff from referring to transgender students by their preferred pronouns. He still, however, signed another bill allowing teachers and state employees to misgender transgender students and colleagues.
All that to say, Burgum's record as a Republican is a mixed bag. He's exhibited some restraint from participating in the cultural race to the bottom but has carried out much of the radical Republican agenda that has left the party losing pivotal races over and over again—from 2020 to the midterms, to state referenda, to Wisconsin's Supreme Court election this past spring.
Still, considering aesthetics and some Republican voters' own dignity, Burgum may rise in the race more than pundits think. His time in business has fostered connections with an array of potential wealthy donors who could fund his first momentum-displaying percentage or two (given how large the field is, and how unknown he is, any point would prove significant). Appearing then on a debate stage with Trump and an array of Republicans who are infamous for kissing the former president's feet may offer Burgum just enough room to become a successful, mid-tier candidate.