C-SPAN Cameras Embarrass Kristi Noem After She Says NRA Is More Than Old White Guys
Is this … woke?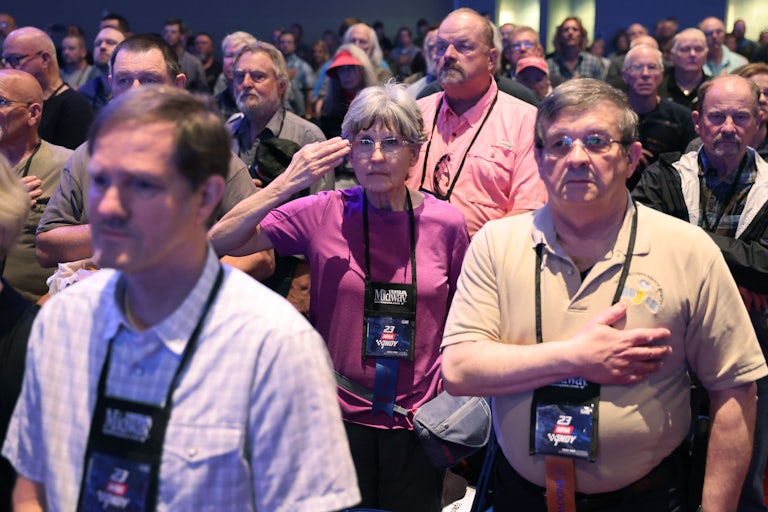 Scott Olson/Getty Images
On Friday, scores of Republicans, including every 2024 hopeful, descended upon Indianapolis to chum it up with NRA members in the aftermath of two devastating mass shootings in Kentucky and Tennessee. And the results have been as appallingly wild as one could imagine.
South Dakota Governor Kristi Noem insisted that, contrary to the deluded media's narratives, the NRA is much more diverse than is given credit. That, indeed, the attendees of the convention represent a mass movement of people of all stripes ready to go to battle to defend their right to own killing machines.
As to the validity of her proposition, well, take a look:
Beyond trying to score woke points about how diverse and inclusive the NRA is, Noem also glowingly discussed how her almost-2-year-old granddaughter apparently "already has a shotgun, and she already has a rifle."
"Soon, [she'll] need them," Noem said about the toddler.
Noem also signed an executive order on stage, one that "blocks state agencies from contracting with large banks that discriminate against firearm-related industries."
The performance of it all was laughable for a moment, but plainly demoralizing in sum. In the immediate wake of two horrific shootings—among over 150 that have swept the nation already this year—Republicans like Noem put on their shiniest holster belts and did their jig. All to impress one of the entities most responsible for a culture that's so violently obsessed with guns it cannot fathom another reality.

Republicans may earn an A+ from the NRA; but on the matters of protecting children, of maintaining the sanctity of life, of guaranteeing people the assured liberty to live a healthy and safe life, they are not even on the grading scale.