Judge Hearing Florida Abortion-Ban Case Has a Huge Conflict of Interest
Florida Supreme Court Justice Charles Canady does not see any reason to recuse himself from the case.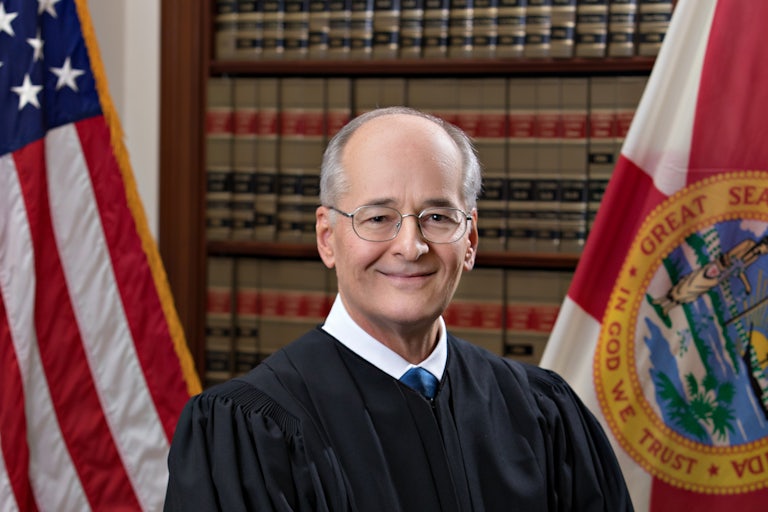 Florida Supreme Court
The Florida Supreme Court heard arguments Friday on a case that will decide the future of abortion rights in the state. And there's one very big conflict of interest: One of the justices ruling on the case is married to a Republican state representative who co-sponsored the six-week abortion ban.
Since Roe v. Wade was overturned, Florida has allowed abortion up to 15 weeks, making the state a major hub for people seeking abortions in the South. Governor Ron DeSantis signed a new law in April that would ban abortion after six weeks, before most people even know they are pregnant. If the state Supreme Court upholds the 15-week ban and dismisses the legal challenge in the case it is now hearing, then the more radical six-week ban will automatically go into effect.
The seven-justice bench includes five conservatives appointed by DeSantis, who has made his opposition to abortion access clear. It also includes Charles Canady, who refuses to recuse himself from the case.
Canady is married to state Representative Jennifer Canady, who co-sponsored the six-week ban. Again, the Supreme Court's ruling in this case will directly impact whether the six-week ban is triggered into law.
Prior to serving as a justice, Canady was a Florida representative during the 1990s. While on Capitol Hill, he sponsored multiple bills to ban "partial-birth abortion," which is not a thing.
Unfortunately, even despite Canady's refusal to recuse himself, the rest of the court does not offer much more hope.
Another justice, Meredith Sasso, is married to DeSantis loyalist Michael Sasso. DeSantis appointed Michael Sasso as vice chairman of the controversial Disney oversight board. Sasso resigned in May, although he did not explain why. While the Disney case has no bearing on abortion, Justice Sasso's close link to DeSantis could indicate how she leans on reproductive rights.
Arguments did not get off to a strong start Friday when a third justice, Carlos G. Muniz, suggested that legal abortion violated fetal personhood. Anti-abortion activists argue that humanity begins at conception and thus fetuses should be afforded legal rights. But health experts warn this line of thinking could be used to criminalize doctors who provide lifesaving care.
If the 15-week ban is upheld and the six-week ban allowed to take effect, abortion access will effectively be wiped out throughout the southern United States. North Carolina Republicans recently forced through a law banning abortion at 12 weeks, and South Carolina Republicans passed a law banning the procedure at six. All three states had become abortion havens in the South after the fall of Roe.
Abortion rights advocates in Florida, though, are hopeful they can win back abortion protections. The abortion rights group Floridians Protecting Freedom is working to get an abortion rights referendum on the state's 2024 ballot. The group says it has collected nearly three-quarters of the 900,000 verified signatures from registered voters required for the ballot initiative.
If it succeeds, then abortion protections would likely be enshrined in the state constitution, overriding any laws the legislature has passed. A February study by the Public Religion Research Institute found that 64 percent of Floridians believe abortion should be legal in all or most cases.