Poll: Majority of Americans Support Unions and Support Strikes
A new Gallup poll shows Americans are overwhelmingly in favor of labor unions.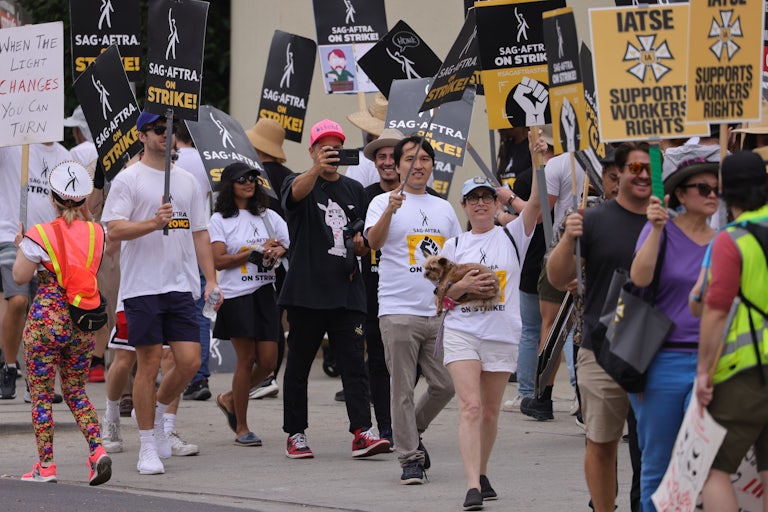 David Swanson/Bloomberg/Getty Images
A new poll from Gallup shows the vast majority of Americans approve of labor unions.
Gallup found that 67 percent of Americans approve of unions nationwide, in a poll conducted earlier this month. This is the fifth consecutive year that the number has surpassed the longtime average of 62 percent and is a dramatic increase since the all-time low of 48 percent approval in 2009, after the Great Recession.
Approval has taken a slight, four-percentage-point dip since last year. One reason why this may have happened could be the drop in Republican approval. In 2022, 56 percent of Republicans approved of labor unions, and in 2023, that number dropped to 47 percent.

The numbers from Gallup match previous polls that say the same thing: Americans like unions. An AFL-CIO poll published Tuesday found that 71 percent of Americans support labor unions. That number increases to 88 percent for Americans under the age of 30.
The poll also has inspiring numbers for workers currently on strike, or those threatening to do so.
United Auto Workers last week voted to authorize union strikes against General Motors, Ford Motor, and Stellantis. Gallup found that 75 percent of Americans side with UAW members, compared to just 19 percent who side with the auto companies. Seventy-two percent of Americans also side with television and film writers, and 67 percent side with television and film actors over Hollywood.
The number of strikes and striking workers has dramatically increased over the last three years. This year, 119,000 workers went on strike from January to May—nearly the same number as in all of 2022. This has been a hot strike summer. The Writers Guild of America has been striking for over 115 days, since the beginning of May. We've also seen strikes from actors, hotel workers, and nurses.