Ted Cruz Appears to Endorse Plowing Into Climate Protesters With Cars
The Texas senator approvingly shared a video of law enforcement ramming into peaceful protesters.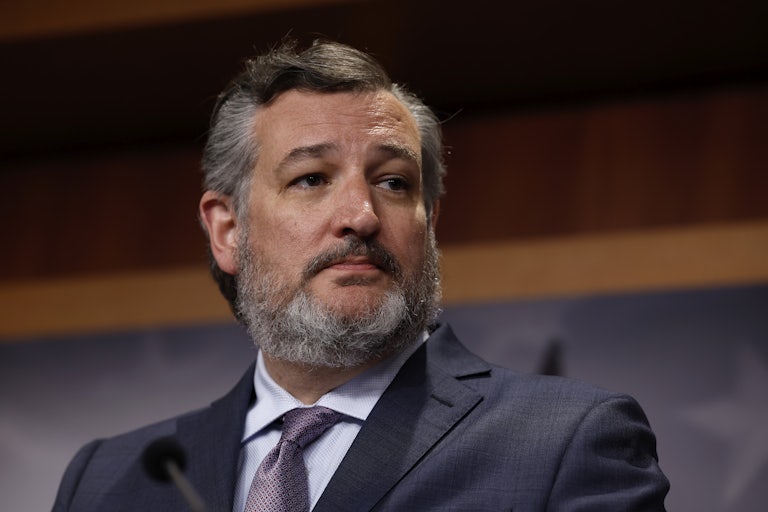 Anna Moneymaker/Getty Images
Ted Cruz on Monday seemed to endorse using trucks to plow into peaceful protesters, when he shared a video of law enforcement doing exactly that.
Protesters set up a blockade on the road to Burning Man on Sunday to demand the Nevada festival ban the use of private jets and single-use plastics. Video captured by one demonstrator shows a police ranger driving a pickup truck into the blockade, knocking one person out of the way. The ranger then gets out, aims a weapon at the protesters and shouts at them to get on the ground. As one protester screams at the rangers that they are peaceful and unarmed and begs them to stop, the officer pushes another protester to the ground and kneels on top of them while handcuffing them.
Cruz retweeted the video, writing, "Play stupid games, win stupid prizes."
This isn't the first time that Cruz has denigrated peaceful protesters. When the Supreme Court draft opinion overturning Roe v. Wade leaked last year, crowds of peaceful protesters gathered outside the homes of Justice Brett Kavanaugh and Chief Justice John Roberts. Cruz inaccurately slammed the demonstrations as "mob violence."
For someone who talks so much about protecting First Amendment rights, Cruz seems to have forgotten that the First Amendment includes the freedom of assembly.