Ramaswamy Doubles Down on Comparing Ayanna Pressley to KKK Grand Wizard
Republican presidential candidate Vivek Ramaswamy is not backing down from his incendiary rhetoric.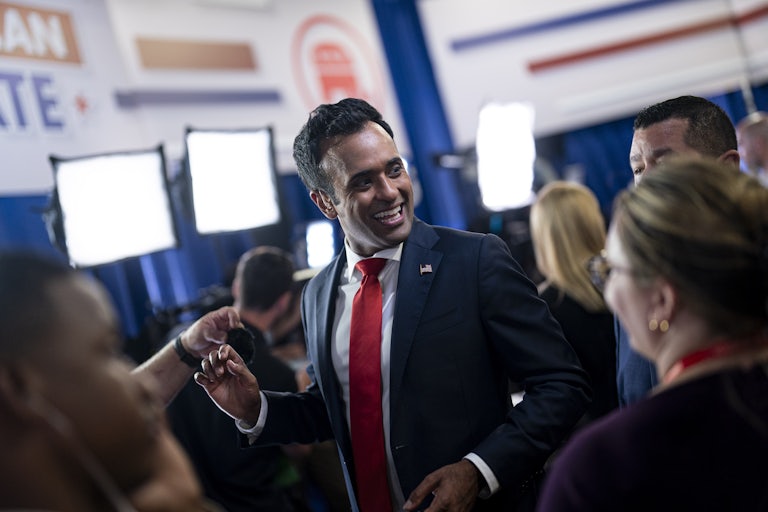 Al Drago/Bloomberg/Getty Images
"The KKK wasn't just about rhetoric—they lynched people, they murdered people, they raped people, they burned their homes," Bash argued. "If you want to have an intellectual discussion do you think that maybe comparing [Pressley] to the grand wizard and the notion of what she said to being a modern leader of the KKK was maybe a step too far, or you stand by what you said?"
Ramaswamy told Bash he stands by what he said.

Ramaswamy first compared Pressley to the KKK grand wizard during a campaign stop in Iowa on Friday.
He was criticizing Pressley, the first Black representative from Massachusetts, for remarks she made in 2019 on how "we don't need any more brown faces that don't want to be a brown voice."
The GOP presidential candidate also attacked How to Be an Antiracist author Ibram X. Kendi, pushing the idea that progressives are the real racists.

"The greatest racism I've experienced—and I have experienced racism—comes from the modern left at a scale unimaginable," Ramaswamy said. "These are the words of the modern grand wizards of the modern KKK."
Ramaswamy refused to back down from the incendiary words on Sunday, telling Bash he believed Pressley's comment had the same "spirit" as the KKK.
"I stand by what I said to provoke an open and honest discussion in this country," he said. "We need to have real, open, honest, raw conversations as Americans. That is our path to national unity."
Pressley, for her part, called Ramaswamy's comments "deeply offensive."
"The verbal assault lobbied against myself and Dr. Kendi is shameful. It is deeply offensive. And it is dangerous," she said. "I remain squarely focused on the work of undoing the centuries of harm that has precisely been done to Black Americans and charting a path of true restorative justice and racial justice forward."