A Top Israeli Official Finally Admitted the Truth About Justice in Israel
Finally, the truth about Israel's two-tiered system of justice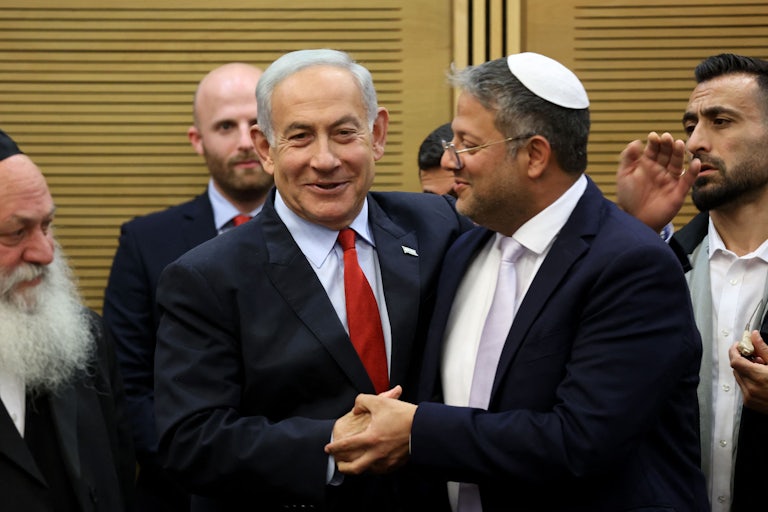 GIL COHEN-MAGEN/AFP/Getty Images
Israeli Prime Minister Benjamin Netanyahu and National Security Minister Itamar Ben-Gvir
A top Israeli official has admitted that Israeli rights take priority over the rights of Palestinians.

Israel's far-right National Security Minister Itamar Ben-Gvir confessed on Wednesday that he believes his family's rights are more important than the freedom of movement for Palestinians in the West Bank—exposing the truth of the two-tiered system of justice.
"Sorry Mohammad, but that's just the reality," Ben-Gvir told journalist Mohammad Magadli on Channel 12 News. "My right, the right of my wife and my children to move around Judea and Samaria is more important than freedom of movement for the Arabs," he added, using another name for the occupied West Bank.
Ben-Gvir's entitled statement came after Magadli asked him about violent crime and terrorism and the Israeli government's failure to address it.

This isn't the first time Ben-Givir has expressed anti-Palestinian and anti-Arab views: He has been convicted of eight charges for inciting racism and supporting Kach, a right-wing anti-Palestinian terrorist organization in Israel.