Texas Judge Orders Airline Lawyers to Take Training From Far-Right Hate Group
The lawyers must take religious freedom classes from the Alliance Defending Freedom, the right-wing Christian group that has systematically rolled back civil liberties.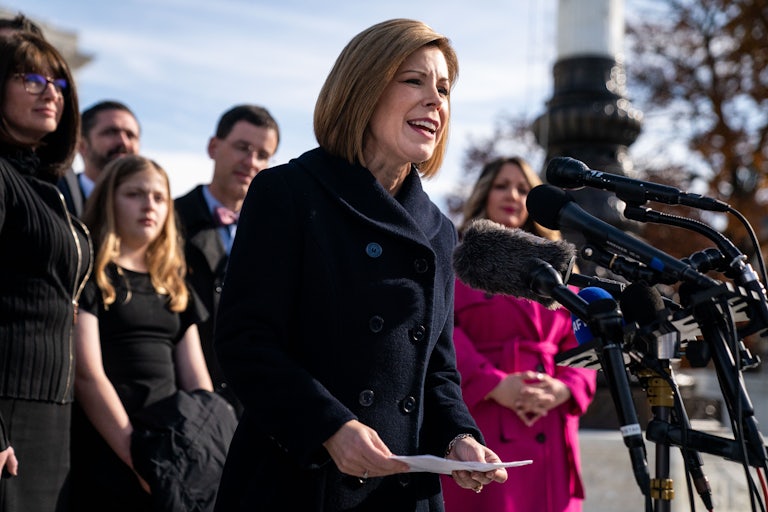 Kent Nishimura/Los Angeles Times/Getty Images
Kristen Waggoner, president of the Alliance Defending Freedom, speaks to members of the press outside the Supreme Court on December 5, 2022.
A Trump-appointed Texas judge has ordered three senior Southwest Airlines lawyers to take eight hours of "religious-liberty training" from the far-right Christian hate group Alliance Defending Freedom.
In his late Monday ruling, U.S. District Judge Brantley Starr specifically mandated the lawyers take the training as part of court-ordered sanctions for religious discrimination. He described ADF as one of several "esteemed non-profit organizations that are dedicated to preserving free speech and religious freedom." The Southern Poverty Law Center has designated ADF as an extremist hate group.
The mandated hate-group training is the latest phase of a lawsuit brought by flight attendant Charlene Carter, who sued Southwest for firing her in 2017 after she sent confrontational anti-abortion messages to her union's former president. Carter argued she had been discriminated against based on her religious beliefs, and U.S. District Judge Brantley Starr sided with her in December, ordering she be reinstated.

Starr, who was appointed by Donald Trump in 2019, also ordered Southwest to issue a statement telling its employees that the airline "may not" engage in religious discrimination against them. Instead, Southwest said that it "does not" do so, prompting Carter to demand additional sanctions against the company.
Carter had made no request for Southwest to undergo religious liberty training. ADF is not representing Carter, nor is it otherwise related to the case at all, so it's unclear why Starr felt the need to involve the group.
It's hard to overstate ADF's role in rolling back civil liberties. One of its lead lawyers is Erin Hawley, who is married to far-right Senator Josh Hawley. ADF helped overturn Roe v. Wade and then sued to remove mifepristone, one of the drugs used in medication abortions, from the national market. That case is still in limbo, as the Fifth Circuit Court has yet to issue a ruling.

ADF also represented the plaintiff in the recent Supreme Court case 303 Creative v. Elenis. Web designer Lorie Smith was suing to have the right to refuse services to LGBTQ people. The design request she claims she received that prompted her suit appears to have been entirely fabricated.