Democrats Still Don't Have a Plan to Avoid a Voting Rights Filibuster
Congressional Democrats reintroduced the Freedom to Vote Act, which failed to pass last year.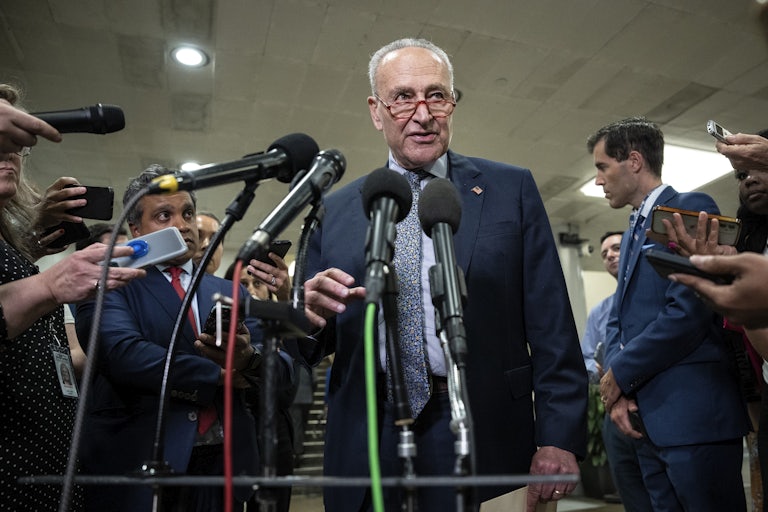 Photo by Drew Angerer/Getty Images
Senate Majority Leader Chuck Schumer
Congressional Democrats on Tuesday resumed their quest to pass new voting rights legislation, reintroducing the Freedom to Vote Act. Senate Democrats attempted to eliminate the filibuster last year in order to pass the measure, an effort that was stymied by Democratic Senators Joe Manchin and Kyrsten Sinema, who has since registered as an independent.
The Freedom to Vote Act includes provisions to implement automatic and same-day voter registration, ensure early voting, and establish Election Day as a national holiday. It would also require states to conduct postelection audits for federal elections, provide guidelines for redistricting to avert gerrymandering, and require additional disclosures for certain campaign-related fundraising and spending. Democrats first introduced the bill in late 2021.
Despite the unlikeliness of its passage, Senate Majority Leader Chuck Schumer said he would designate the bill S. 1, identifying it as a priority for the Senate Democratic majority. "Make no mistake: Democrats are going to keep fighting," Schumer said. "We have to be ready to pass this legislation right out of the gate, at the soonest possible opportunity."
Schumer added that Democrats were aware of the "serious challenge" they're facing regarding passing the measure, alluding to the difficulty of getting sufficient Republican support to pass it in either chamber of Congress. Representative John Sarbanes, a House co-sponsor of the bill, called the effort to pass it a "relay race."
Manchin was a co-sponsor of the original Freedom to Vote Act and led the unsuccessful effort to convince enough Republicans to sign onto the bill to avoid a filibuster, and is co-sponsoring the bill again this Congress.*
The bill's reintroduction comes as House Republicans consider their own election-related legislation, the American Confidence in Elections Act, which would encourage states to adopt voter ID laws, overhaul the elections system in Washington, D.C., and restrict federal funding for states that allow noncitizens to vote. That bill is as unlikely to pass in the Democratic-controlled Senate as the Freedom to Vote Act is to pass in the Republican-controlled House.
Democratic Representative Terri Sewell also said on Tuesday that she planned to reintroduce the John Lewis Voting Rights Advancement Act, named for the late congressman and civil rights icon, which would restore provisions of the 1965 Voting Rights Act gutted by the Supreme Court in 2013.
* This post originally misstated Manchin's role in the bill.