"Textbook Billionaire Scam": Harlan Crow Cut Tax Bill With Clarence Thomas Gifts
The billionaire Republican megadonor seems to have used the Supreme Court justice's yacht trips to lower his own tax bill.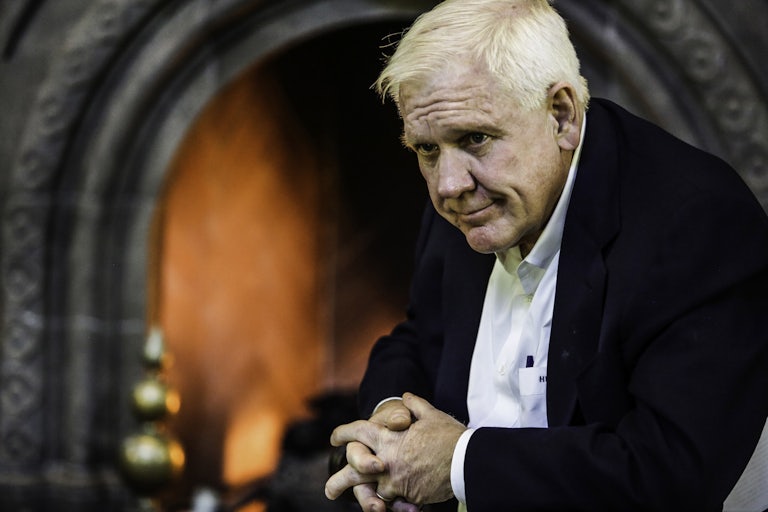 Chris Goodney/Bloomberg/Getty Images
Harlan Crow
Turns out that billionaire Harlan Crow's relentless gift-showering (read: warm, beautiful friendship) toward Supreme Court Justice Clarence Thomas wasn't enough on its own—it was also part of a tax break bonanza for the Republican megadonor.
Once again, ProPublica has revealed even more troubling details about the billionaire's shady dealings with one of the most powerful members of the U.S. government. It seems that Crow has, for years, likely pretended that his 162-foot yacht, the Michaela Rose, was a chartering business in order to avoid paying taxes—and Thomas's voyages on the ship helped maintain the facade.
Decades ago, Crow and his family had formed a company, Rochelle Charter Inc., in order to lease out their superyacht, ProPublica details. And from data between 2003 to 2015, the company reported losing money in 10 of the 13 years; the net losses reached nearly $8 million, with about half flowing to Harlan himself. The deductions helped the family offset income elsewhere, saving the Crows from paying taxes. The pattern echoes what billionaires often do with their private jets (which, of course, was another vehicle used by Crow to taxi Thomas and the justice's family around the world).
The yacht tax breaks, among other loopholes, enabled Crow to pay an average income tax rate of 15 percent during the time period, lower than that of many middle-class workers in America.
The kicker is that while these sorts of deductions can only be had by a purported business operator, it doesn't seem like the Michaela Rose was a legitimate business pursuit. ProPublica spoke to about a dozen former crew members of the ship, and none of them said they were aware of the superyacht ever being chartered. Cross-checking that with schedules for three different years, the boat seemingly was only ever used to cruise Crow's family, friends, and executives of his company around.
And that's not all. As recently as 2019, an attorney representing the supposed yacht chartering company, Rochelle Carter, filed an application with the U.S. Patent and Trademark Office. Success with such an application requires basic things like, you know, showing that the Michaela Rose was actually being used commercially.

The attorney attached a brochure as proof. "This magnificent yacht has cruised the oceans of the world with a graceful and gentle motion found only on the most superior seagoing vessels," the pamphlet said, boasting of the boat's "fine, seakindly hull" and "mahogany paneled formal dining room" that seats 16. But, ProPublica notes, it said nothing about chartering.
The USPTO was, naturally, not satisfied, up until the attorney provided new supposed evidence—screenshots from websites like Superyachts.com and LiveYachting.com, showing "links and references to yacht 'Charter' services offered in connection with Applicant's MICHAELA ROSE mark," according to the attorney. The USPTO caved and approved the trademark. As ProPublica points out, neither website actually guarantees that the ship was a business. The former hosts profiles for hundreds of ships—regardless of whether they can be chartered. The latter just encouraged users to contact a broker to find out if a boat could be chartered.
"Based on what information is available, this has the look of a textbook billionaire tax scam," Senate Finance Committee Chair Ron Wyden told ProPublica. "These new details only raise more questions about Mr. Crow's tax practices, which could begin to explain why he's been stonewalling the Finance Committee's investigation for months."
Such a scandal adds to the Mount Everest of malfeasance festering within Crow and Thomas. Thomas has received secret and lavish gifts for decades from the Nazi memorabilia–collecting billionaire and GOP donor Harlan Crow, including luxurious island-hopping excursions on superyachts, tuition payments for his grandnephew's private schooling, and even a secret deal in which Crow bought Thomas family property and proceeded to upgrade it while Thomas's mother still lived in it. Separately, meanwhile, Thomas's aide collected Venmo payments, allegedly for a "Christmas Party" hosted by the justice, from a string of high-rolling lawyers with cases before the Supreme Court.