John Roberts Would Like You to Pretty Please Stop Heckling Supreme Court Justices
The chief justice says you don't need to be worried about the Supreme Court's ethics. They'll handle it themselves.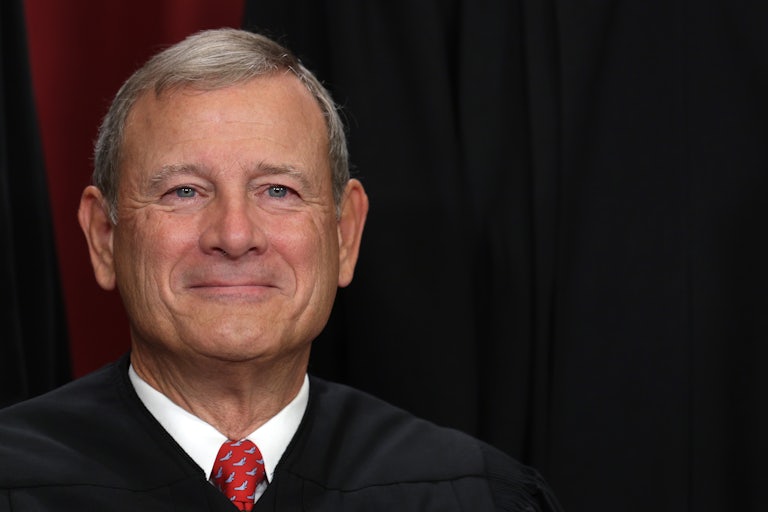 Alex Wong/Getty Images
On Tuesday, Chief Justice John Roberts complained about justices being heckled and said that the Supreme Court—of which nearly half its members have been found to be embroiled in suspicious activity—does not need to be held accountable by other branches of government.
Roberts shared the comments at the American Law Institute's one hundredth anniversary dinner.
"I want to assure people that I am committed to making certain that we as a court adhere to the highest standards of conduct," Roberts told the audience. "We are continuing to look at things we can do to give practical effect to that commitment. And I am confident there are ways to do that that are consistent with our status as an independent branch of government under the Constitution's separation of powers."
He gave no concrete examples of how the corrupt court will hold itself accountable.
Roberts also reminisced on the days of his mentor, conservative Court of Appeals Judge Henry Friendly, contrasting them to today. "There's much in the legal arena that he would find abhorrent: [a] judge heckled and shouted down at a law school, protesters outside the homes of justices, to the extent that marshall protection is needed 24/7."
The chief justice said that in the 18 years he has served on the highest court in America, "the hardest decision he had to make" was not related to the First Amendment, or the death penalty, or the separation of powers—but whether to erect fences and barricades around the Supreme Court.
While those fences were going up, Roberts said, he kept hearing the words of former secretary of state and Supreme Court Justice Charles Evans Hughes at the opening of the Supreme Court building. "The republic endures, and this is the symbol of its faith," Roberts quoted.
That invocation is what makes Roberts's comments so troubling. Trust in the Supreme Court is at its lowest in 50 years. The "republic" was very nearly upended two years ago, on January 6, and arguably has been numerous other times, for instance in 2000, at the hands of the legal system. The court has also been implicated in many other signals of an undemocratic society, like, for instance, overturning abortion rights.

Meanwhile, longtime Justice Clarence Thomas has received secret and lavish gifts for decades from the Nazi memorabilia–collecting billionaire and GOP donor Harlan Crow, including luxurious island-hopping excursions on superyachts, tuition payments for his grandnephew's private schooling, and even a secret deal in which Crow bought Thomas family property and proceeded to upgrade it while Thomas's mother still lived in it.

Justice Neil Gorsuch successfully sold a 40-acre property that he had been trying to sell for two years to an undisclosed buyer; the buyer of the nearly $2 million Colorado ranch was the CEO of a law firm that has since had 22 cases with business before the court.
Roberts's own wife has allegedly been paid more than $10 million by an array of high-class law firms—at least one of which has argued before her husband in the Supreme Court.
And this doesn't even scratch the surface of other issues, like Thomas and Brett Kavanaugh being alleged sexual abusers.
Indeed, if the court is a symbol of the republic, the republic is failing. And yet Roberts's main concern is not with legitimizing the Supreme Court but with the people heckling justices for not doing so.