Raphael Warnock Warns It's Only a "Matter of Time" Before a Mass Shooting Affects You
The Georgia senator revealed that his own children were on lockdown amid the Atlanta shooting.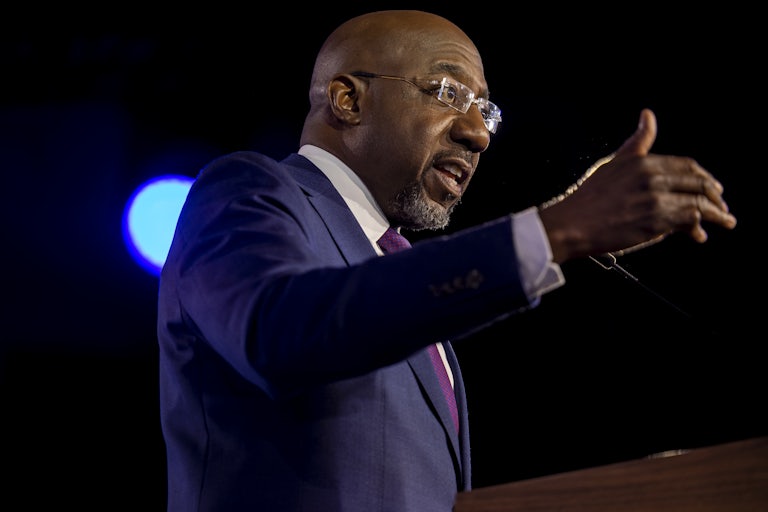 Nathan Posner/Anadolu Agency/Getty Images
Senator Raphael Warnock on Wednesday decried the apparent complacency of the U.S. government when responding to mass shootings, warning it was "only a matter of time" before such an attack affects them personally.
There have been 190 mass shootings in the United States since the start of 2023, according to the Gun Violence Archive. For comparison, there have been only 123 days in the year.
"We behave as if this is normal. It is not normal. It is not right for us to live in a nation where nobody's safe no matter where they are," Warnock said on the Senate floor. "I think there's an unspoken assumption … that 'this can't happen to me.'"
"I shudder to say it, but the truth is, in a real sense, it's only a matter of time that this kind of tragedy comes knocking on your door."
Warnock also revealed that this tragedy nearly landed on his doorstep. His children's schools in Atlanta were put on lockdown during the attack on a hospital Wednesday. He said he was praying that they were safe, but he was quick to add that prayer alone is not enough.
"As a pastor, I'm praying for those who are affected by this tragedy, but I hasten to say that thoughts and prayers are not enough," he said. "In fact, it is a contradiction to say that you are thinking and praying and then do nothing. It is to make a mockery of prayer. It is to trivialize faith."