Eric Swalwell Slams Jim Jordan With Killer Troll During Garland Hearing
Republicans were trying to make a point about Hunter Biden, before they were reminded of the House Judiciary chair's own contempt of Congress.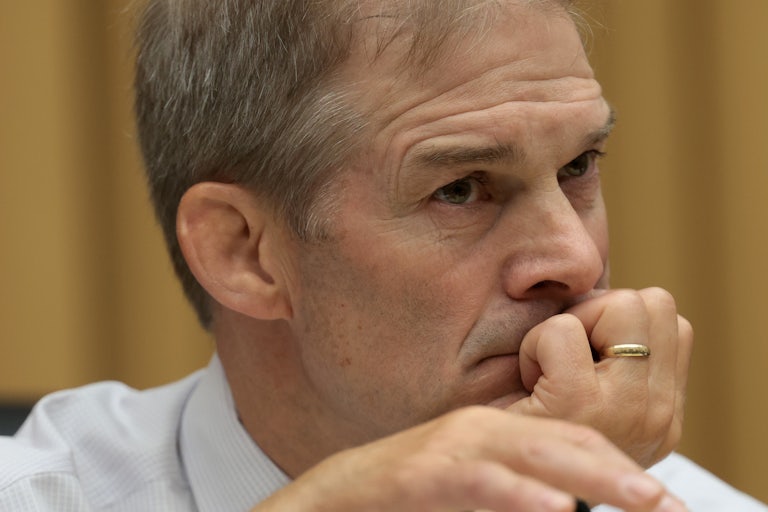 Win McNamee/Getty Images
Representative Jim Jordan
Representative Eric Swalwell called out Jim Jordan on Wednesday for continuing to evade a subpoena to testify before the House January 6 investigative committee.
The House Judiciary Committee, which Jordan chairs, held a hearing on the supposed weaponization of the federal government. At one point, Representative Thomas Massie accused Attorney General Merrick Garland of being in contempt of Congress for declining to comment on ongoing investigations into Hunter Biden.
Swalwell was quick to hit back. "That is quite rich, because the guy who's leaving the hearing room right now, Mr. Jordan, is about 500 days into evading his subpoena," Swalwell said, displaying a countdown clock on a tablet as he spoke. Jordan had gotten up and was walking out of the room.
"If we're going to talk about contempt of Congress, let's get real," Swalwell continued. "Are you serious that Jim Jordan, a witness to one of the greatest crimes ever committed in America, a crime where more prosecutions have occurred than any crime committed in America, refuses to help his country, and we're going to get lectured about subpoena compliance and contempt of Congress?"
The January 6 investigative committee subpoenaed Jordan in December 2021 to discuss messages he sent to Donald Trump ahead of the insurrection. Jordan had also sent messages to Trump's legal team and other people involved in planning the January 6 rally or objecting to the certification of Joe Biden's presidential victory.
Despite insisting in November that year he had "nothing to hide," Jordan refused to cooperate with the subpoena. At the time, he accused the committee of engaging in "partisan witch hunts." Then, in May 2022, Jordan contested whether the subpoena was valid or even constitutional.
Jordan has remained a solid Trump ally. Since taking the helm of the Judiciary Committee, he has repeatedly accused the Biden administration of weaponizing different federal agencies to target Trump specifically.