DeSantis Rejected $350 Million in Climate Funding Before Hurricane Idalia
The Florida governor rejected millions in climate funding. Now his state is suffering from a storm fueled by climate change.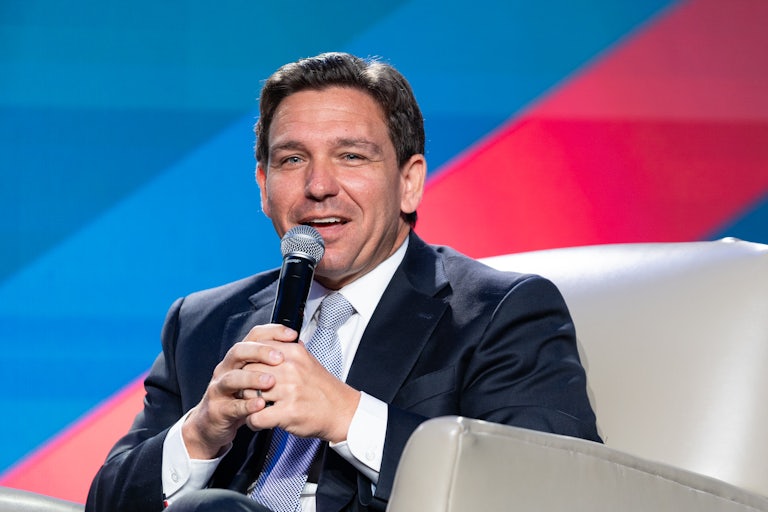 Megan Varner/Getty Images
Florida Governor Ron DeSantis rejected $350 million in federal funds meant to help tackle climate change—just months before Hurricane Idalia flooded his state.
DeSantis used a line-item veto in June to reject a $5 million federal grant to set up a rebate program for Floridians who retrofit their homes with energy efficient appliances. This in turn meant that Florida couldn't access the $341 million the Inflation Reduction Act allotted to fund the program. The Sunshine State has until August 2024 to reapply for the money.
The governor also rejected an additional $3 million in IRA funds to help fight pollution, as well as the Solar for All program that helps low-income people get solar panels. The IRA is a major part of Biden's overall climate agenda and the largest investment to address climate change in U.S. history.
DeSantis's decision to reject the funds came just before the start of hurricane season, which took a devastating turn Wednesday when Hurricane Idalia made landfall in Florida. The storm has already knocked out power for nearly 500,000 people in northern Florida and Georgia, according to the tracker website PowerOutage.us.
Idalia has unleashed disastrous flooding and storm surge onto Florida. The sheriff of Citrus County, located in the center of the state's west coast, told CNN that flooding could be six feet deep once the tide comes in.
The storm also grew quickly, with its wind speeds nearly doubling to 130 miles per hour from 75 mph in the 24 hours before making landfall. Idalia is now one of just 10 storms since 1950 to speed up by at least 40 mph in the 24 hours before touching down in the U.S.
The intensifying storm can be directly attributed to climate change. Hurricanes strengthen over warm ocean waters, and warmer air holds more moisture that can add to storms. The National Oceanic and Atmospheric Administration warned Monday that areas off Florida's coast are more than four degrees hotter than the usual average in August.
To make matters worse, DeSantis hasn't just blocked his state from accessing clearly necessary climate funding. His terrible climate-related policies have also chased multiple insurance carriers out of Florida. Floridians have seen their insurance costs skyrocket as the state gets hammered by climate change. A longer and stronger hurricane season has flooded the Sunshine State and destroyed homes and businesses. It's quickly getting too expensive for insurance companies to keep reimbursing people for damages.