Trump Blames Wokeness and Biden for Women's Soccer Team World Cup Loss
That's ... not how that works.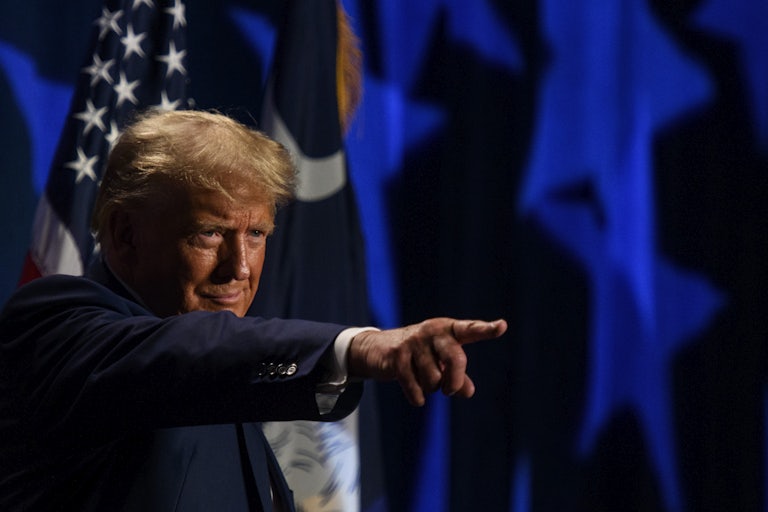 Melissa Sue Gerrits/Getty Images
Donald Trump—who apparently hates both America and women—went on a wild rant after the U.S. Women's National Soccer Team was knocked out of the World Cup, mocking the players and inexplicably blaming their loss on "wokeness."
The top-ranked team lost Sunday to Sweden, the U.S. team's earliest exit ever and a shocking disappointment. Trump has disliked the team, particularly its star player Megan Rapinoe, for years and lost no time in throwing salt on the wound.
"The 'shocking and totally unexpected' loss by the U.S. Women's Soccer Team to Sweden is fully emblematic of what is happening to the our [sic] once great Nation under Crooked Joe Biden. Many of our players were openly hostile to America," he said Sunday night on Truth Social.
"No other country behaved in such a manner, or even close. WOKE EQUALS FAILURE. Nice shot, Megan, the USA is going to HELL!!! MAGA."
It should go without saying that (1) Joe Biden had nothing to do with the team's loss, and (2) nothing will happen to the United States just because its team was knocked out of the Women's World Cup.
The simple answer is that the team failed to perform to its usual standards throughout the entire tournament. The loss is particularly bitter for Rapinoe, who plans to retire at the end of the domestic season in November.
But Trump couldn't pass up the opportunity to blame something on a queer woman. He and Rapinoe have traded barbs for years, starting in 2019 when Rapinoe said she considered herself a "walking protest against the Trump administration" and would not be "going to the fucking White House" if her team won the World Cup that year (they did). Trump has repeatedly mocked Rapinoe ever since.