Think Ron Desantis's Twitter Space Was Bad? What Came After Was Even Worse.
To say DeSantis's presidential announcement did not go well is an understatement.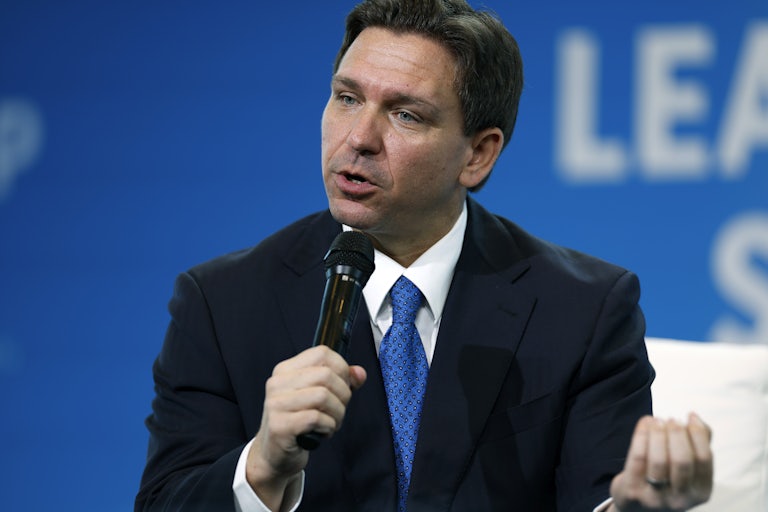 Anna Moneymaker/Getty Images
Ron DeSantis somehow managed to follow his disastrous Twitter Space with an equally cringey Fox News interview.
The Florida governor formally announced he was running for president Wednesday night in a Twitter event with Elon Musk and David Sacks. To say things had gone poorly would be an understatement, with constant glitches and bad jokes derailing any sense of pomp or celebration. But DeSantis's subsequent interview on Fox News didn't really improve things.
When host Trey Gowdy asked how DeSantis would address the war in Ukraine, the Florida man launched into a rant about how the military is too "woke." "First, I think what we need to do as a veteran is recognize that our military has become politicized," DeSantis said. "You talk about gender ideology, you talk about things like global warming that they're somehow concerned, and that's not the military that I served in."

He did not mention what he specifically would do about Ukraine. (Recall that DeSantis has previously faced blowback from Republicans for saying Ukraine is not a vital interest.)
Gowdy then asked about the government's role in addressing climate change (which, props to him for semi-acknowledging that it's real). DeSantis promptly responded that the weather has been subject to "politicization."
Insisting that hurricanes have not gotten more intense in recent years, DeSantis instead said, apropos of nothing, "I think what we should be doing in the United States is focusing on being energy independent."
It's interesting how quick DeSantis was to denounce things being too politicized, considering all the things he has recently decided to politicize in his home state: bathrooms, drag queens, children's books, and Disney World, to name a few.