Ohio Vote Is Crushing Defeat for Sherrod Brown's Likely '24 Opponent
Frank LaRose made the ballot measure related to abortion his central issue—and Ohio voters overwhelmingly rejected it.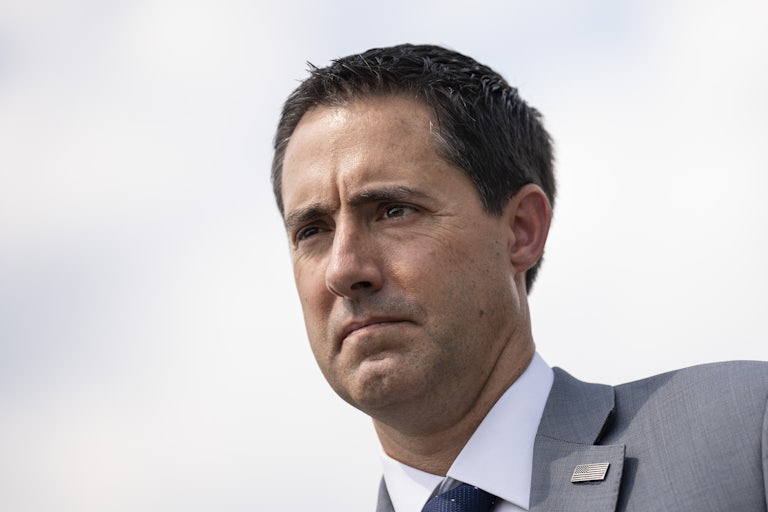 Drew Angerer/Getty Images
Ohio Secretary of State Frank LaRose
Ohio Secretary of State Frank LaRose is livid that his plan to overthrow local democracy was thwarted by democracy, and the Senate candidate has decided the best response is to insult his own constituents.
Ohioans on Tuesday overwhelmingly rejected an amendment to raise the threshold for ballot initiatives to 60 percent of votes, which would have paved the way for minority rule in the state. Republicans had argued the amendment was needed to protect the state constitution from the influence of special interest groups.
But in reality, the measure was put forward to block another amendment, which goes up for a vote in November, to enshrine abortion rights in the constitution. LaRose himself admitted as much, saying in June that the August election "is 100% about keeping a radical pro-abortion amendment out of our constitution."
Now that his central issue has lost (badly), LaRose, who will likely be the Republican candidate challenging Democrat Sherrod Brown for Senate, is blaming all the people he claims to want to represent. "I'm grateful that nearly 1.3 million Ohioans stood with us in this fight, but this is only one battle in a long war. Unfortunately, we were dramatically outspent by dark money billionaires from California to New York, and the giant 'for sale' sign still hangs on Ohio's constitution," he said in a statement.
This is blatantly untrue. Both campaigns supporting and opposing raising the vote threshold were primarily funded by out-of-state donors, but the "yes" campaign significantly out-fundraised the "no" side.
Most of the "yes" campaign's money came from one billionaire Republican megadonor, with smaller donations from anti-abortion groups—including Susan B. Anthony Pro-Life America, which is linked to dark money king Leonard Leo.
LaRose also used his statement to spread baseless fears: "Ohioans will see the devastating impact of this vote soon enough. The radical activists that opposed Issue 1 are already planning amendments to shut parents out of a child's life-altering medical procedure, force job killing wage mandates on small businesses, prevent law abiding citizens from protecting their families and remove critical protections for our first responders."
There are currently no state ballot initiatives for the issues LaRose mentions, such as gender-affirming care for minors or raising the minimum wage. But go off, I guess.
LaRose ended his statement by promoting himself and, implicitly, his Senate campaign. But that may not go down so well, now that he's shown he backs losing issues and then has a tantrum when they perform poorly.