JFK's Grandson Drags RFK Jr.'s White House Bid as Embarrassing "Vanity Project"
Robert F. Kennedy Jr. is being criticized by all his family members.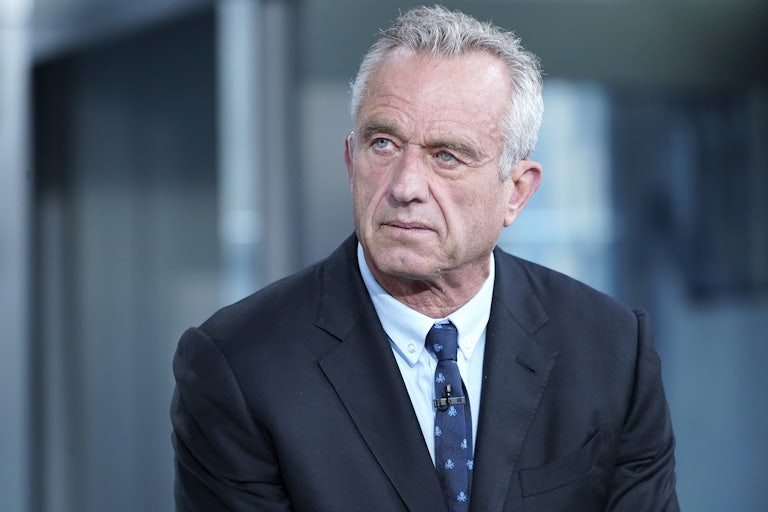 John Lamparski/Getty Images
Robert F. Kennedy Jr.
You have to wonder where Robert F. Kennedy, Jr. will go when Thanksgiving rolls around this time.
On Friday, Jack Schlossberg—President John F. Kennedy's only grandson—denounced RFK Jr., calling his candidacy "an embarrassment" and a "vanity project."
"President John F. Kennedy is my grandfather. And his legacy is important. It's about a lot more than Camelot and conspiracy theories. It's about public service and courage," Schlossberg began.

"It's about civil rights, the Cuban missile crisis, and landing a man on the moon. Joe Biden shares my grandfather's vision for America, that we do things not because they are easy, but because they are hard. And he is in the middle of becoming the greatest progressive president we've ever had," he continued.
"Under Biden, we've added 13 million jobs. Unemployment is at its lowest in 60 years. Biden passed the largest investment in infrastructure since the New Deal, and the largest investment in green energy ever. He's appointed more federal judges than any president since my grandfather. He ended our longest war. He ended the Covid pandemic, and he ended Donald Trump."

And on RFK Jr., he didn't mince his words.
"I've listened to him. I know him. I have no idea why anyone thinks he should be president," Schlossberg said about his cousin. "What I do know is his candidacy is an embarrassment. Let's not be distracted again by somebody's vanity project. I am excited to vote for Joe Biden in my state's primary and again in the general election, and I hope you will too."
Schlossberg's comments follow a string of other family members expressing their discontent with the anti-vax candidate seemingly supported by more Republicans than Democrats. The denunciations came after Kennedy's remarks that Covid-19 was "targeted" to spare people who are "Ashkenazi Jews and Chinese."
"I STRONGLY condemn my brother's deplorable and untruthful remarks last week about Covid being engineered for ethnic targeting," said Kennedy's sister, Kerry Kennedy, earlier this week. "His statements do not represent what I believe or what Robert F. Kennedy Human Rights stands for, with our 50+ year track record of protecting rights and standing against racism and all forms of discrimination," added the president of the RFK Human Rights advocacy organization.

"My uncle's comments were hurtful and wrong. I unequivocally condemn what he said," said former Representative Joe Kennnedy III.