Dem Congresswoman Wrecks RFK Jr. for His "Idiotic, Bigoted Messaging"
Representative Stacy Plaskett called out Robert F. Kennedy Jr. and the Republicans who invited him to testify on "censorship."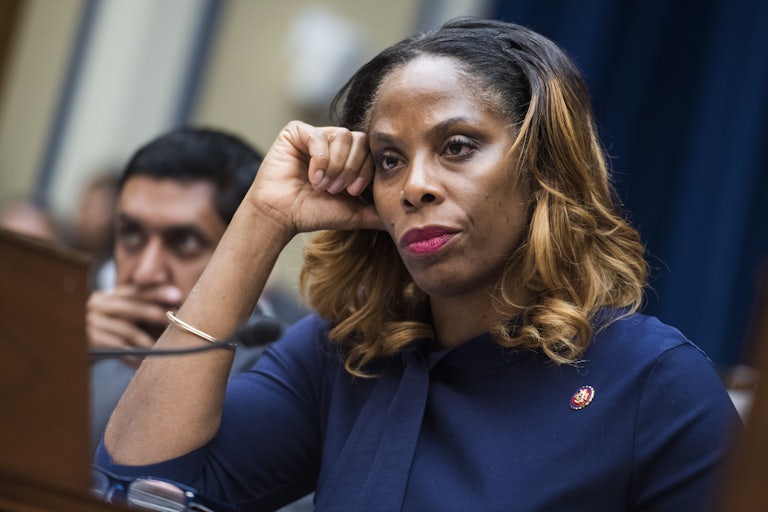 Tom Williams/CQ Roll Call
Representative Stacey Plaskett absolutely destroyed Republicans on Thursday for their decision to let Robert Kennedy Jr. testify before Congress—calling them out for co-signing on his "idiotic, bigoted messaging."
The House Judiciary Committee held a hearing on the supposed weaponization of the federal government, a favorite talking point of Chair Jim Jordan. Jordan and House Oversight Chair James Comer, close allies of each other and of Donald Trump, have repeatedly argued that the Biden family is using the government to cover up its own wrongdoing while going after the former president.
Prominent anti-vaccine advocate and conspiracy theorist Kennedy, who is running against Joe Biden for the Democratic presidential nomination, was invited to speak on censorship and freedom of speech. But Plaskett, the Judiciary's ranking member, was not having it.
"Many of my Republican colleagues across the dais will rush to cover that they have Mr. Kennedy here because they want to protect his free speech," said Plaskett, a former attorney. "This is not the kind of free speech that I know of."
She called Kennedy out for his previous racist and antisemitic comments, saying, "Free speech is not an absolute. The Supreme Court has stated that. And others' free speech that is allowed—hateful, abusive rhetoric—does not need to be promoted in the halls of the people's house."
"Our right does not mean that we as Americans are … free from accountability. And that's what's distressing about this hearing," Plaskett continued. "Even knowing what they know about Mr. Kennedy's hateful, evidence-free rhetoric.… Speaker McCarthy, Chairman Jordan affirmatively chose to give this a platform."
In addition to promoting the long-debunked conspiracy theory that vaccines cause autism, Kennedy came under fire over the weekend for claiming that Covid-19 was "targeted to attack Caucasians and Black people," while sparing those who are "Ashkenazi Jews and Chinese."
He has said Black children don't need vaccines because they have supercharged immune systems. He also implied that Jews in Nazi Germany had more freedom of movement than unvaccinated people during the Covid-19 pandemic.
Even though he is running on the Democratic ticket, Kennedy has many Republican donors. He also agreed to speak at the far-right Moms for Liberty summit, although he later backed out.
"These folks have a plan," Plaskett said of Republicans. "They want to give expression to the most vile sorts of speech here in this committee room because it prepares the ground for their own conspiracy theories and pseudoscience."
"And they apparently don't care how many people are hurt or die as a consequence of their actions.… Because nothing, nothing is more important to them than power."