Dark Brandon Ad Voiced by None Other Than Marjorie Taylor Greene Goes Viral
The campaign ad reached more than 35 million views in less than a day.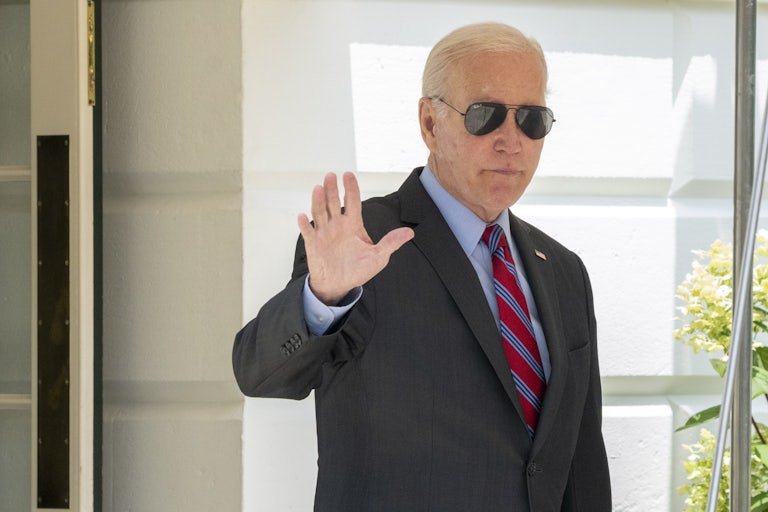 Ken Cedeno/UPI/Bloomberg/Getty Images
President Joe Biden
"Joe Biden had the largest public investment in social infrastructure and environmental programs, that is actually finishing what FDR started, that LBJ expanded on, and Joe Biden is attempting to complete," Marjorie Taylor Greene said at the conservative Turning Point Action conference over the weekend.
Except … she meant it all as an insult?
The topsy-turvy logic was not missed by the Biden White House, which pasted Greene's remarks into a 35-second video, clipped with videos of Biden and Vice President Harris surrounded by factory workers, officers, restaurant workers, men in hard hats and construction vests, and smiling fans meeting the president.
Greene also noted some of the other programs the Biden administration has focused on, including ones "to address education, medical care, urban problems, rural poverty, transportation, Medicare, Medicaid, labor unions," adding that "he still is working on it."
"I approve this message," Biden's account tweeted alongside the video.
As of late afternoon Wednesday, the video had amassed 35 million views—second only to a video Biden released in April announcing his reelection bid, which has over 45 million views.
Greene's royalty-free endorsement of Biden came before another curious favor for Democrats. Today, the Georgia Republican said on the House floor that "when evidence and proof of a crime is presented, no prosecution should be denied, no matter who the person is."
In other news, twice-impeached, twice-indicted, and rapist former President Donald Trump now faces a likely third criminal indictment.