Another Stupid Flip-Flop from Sinking Ship DeSantis
Team DeSantis is going after Team Trump for lying about how much DeSantis defended him after reports of a potential third indictment.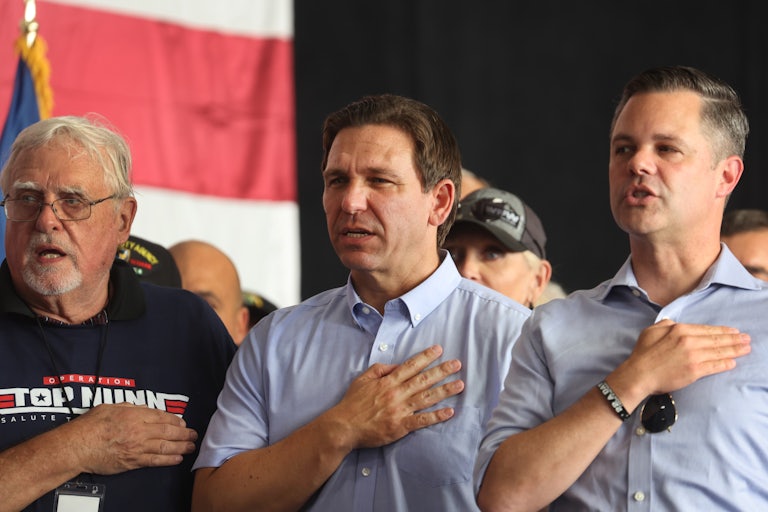 Scott Olson/Getty Images
Ron DeSantis has been plagued by many issues since announcing his campaign for president: everything from the fact that no one seems to like him to the fact that he's running as a junior varsity fascist, a bench player trying to compete against the real deal. And he can't seem to free himself from that second issue.
Now—as twice-impeached, twice-indicted, and liable for sexual abuse and defamation former President Donald Trump faces a possible third indictment for his role in the January 6 riots and efforts to overturn the 2020 election—DeSantis is tying himself into pretzels.
On Tuesday, the Florida governor said Trump "should have come out more forcefully" amid the January 6 attack. He did not go further and say anything like Trump should be held criminally liable for inciting the terrorist attack or for attempting to overthrow democracy.
Afterward, a number of Trump surrogates descended upon the extremely bare moment, attacking DeSantis for even suggesting Trump could've done things a little differently.
"Ron DeSantis just said that Trump should've come out more 'forcefully' against 'what was going on' on Jan 6!" tweeted Trump-aligned political strategist Alex Bruesewitz. "DeSantis is morphing into Adam Kinzinger! Showing his true colors!"
The tweet came amid scores of other similar tweets from Trump allies and influencers.
And the DeSantis campaign, as per usual, panicked in a frenzy. The infamous DeSantis War Room (which posted that insane and viciously homophobic manosphere ad) tweeted a 638-character tweet clarifying that DeSantis wasn't actually going after Trump that hard. It tweeted a 1,071-character follow-up tweet showing that DeSantis threw out all the hits: the weaponization of government, Hunter Biden, the FBI and Justice Department … and so, really, DeSantis is on Trump's side!! We pwomise!
To distill it for you: DeSantis is criticizing Trump. But also criticizing people criticizing Trump. And criticizing Trump's campaign for not giving him enough credit for not criticizing Trump. Got it?