It Never Ends: Trump Took Precious Israeli Antiquities to Mar-a-Lago
Israel has been struggling to get back the antiquities after they were lent to the U.S. during the Trump administration.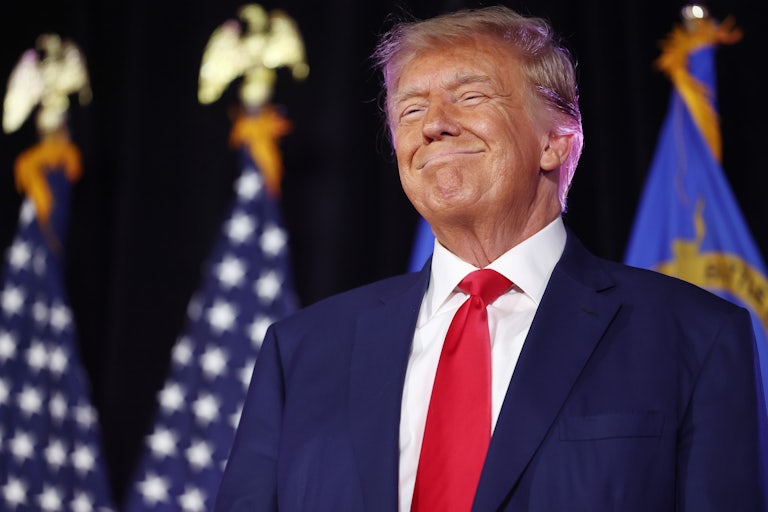 Mario Tama/Getty Images
Trump's Mar-a-Lago bathrooms and ballrooms were not just filled with top secret government documents. He apparently has also been hoarding temporarily loaned Israeli antiquities there for four years.
Haaretz reports that Israel lent the Trump White House antiquities, including ancient ceramic lamps from its national treasures collection, for a Hanukkah candle-lighting event in 2019. Israel Hasson, the then-director of the Israeli Antiquities Authority, approved the loan of the antiquities so long as they were returned within weeks.
Hasson told Haaretz that "we wanted our man to go and bring it back, but then Covid broke out, and everything got stuck." So Hasson's agency had asked Saul Fox, a major Jewish-American donor to the Antiquities Authority, to keep the items in tow until they could be brought back to Israel. But, Haaretz reports, Israeli authorities discovered several months ago that the antiquites instead ended up at Mar-a-Lago, "where they still remain."
Eli Eskozido, the new Antiquities Authority head, has asked the Israeli government and Trump's former U.S. ambassador to Israel to coordinate a return of the antiquities, but to no avail. One source told Haaretz that he wouldn't be surprised if "the items Israel seeks are also eventually found in some bathroom."
Republicans have bent over backward to show their inextinguishable support for Israel, but it's unclear whether they will question why Trump has been harboring Israeli antiquities. After all, they had barely any criticism for his stealing of U.S. national security documents.