Ron Johnson: "I Have the Deepest Sympathy for 9/11 Families … BUT"
The Republican senator does not care about Saudi Arabia's sportswashing campaign with LIV Golf.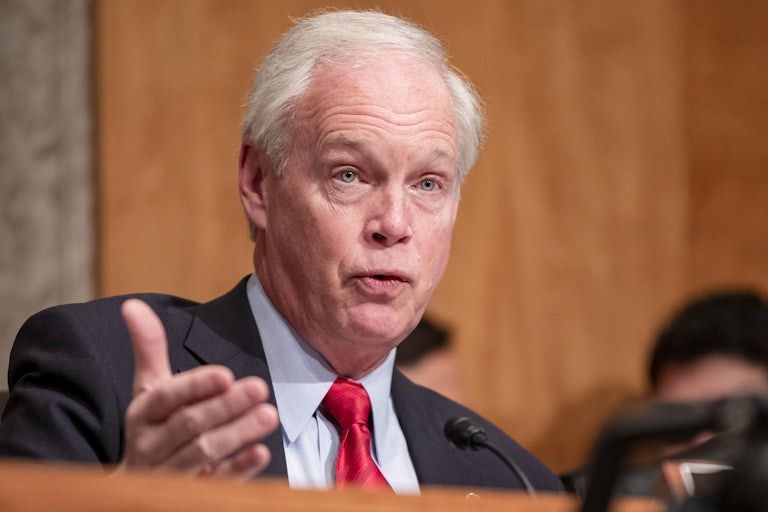 Samuel Corum/Getty Images
Wisconsin Senator Ron Johnson
Wisconsin Republican Senator Ron Johnson understands that 9/11 was not great, and that it's not awesome that Saudi Arabia killed an American resident and journalist.… But dang it, he just loves golf too much to not give Saudi Arabia at least a little slack!

"Well listen, I have the deepest sympathy for 9/11 families, I understand the issue of sportswashing, I don't think there's any—there's not enough billions of dollars for the Saudis to wash away the stain of the brutal Khashoggi murder," Johnson began. "But the reality is we all buy oil, we use—we drive cars, we are the ones that are filling up the coffers of the Public Investment Fund," he added, referring to the Saudi government-controlled wealth fund that backs LIV Golf.
"I would rather have the Saudis invest their oil wealth in the U.S. as opposed to China or Russia—that's just a reality of the world," he continued. "And again, I'm a lover of the game of golf. I love watching golf. I want to see the best golfers in the world compete against each other and not be split into different leagues and pretty well destroy the competition at the highest level."

According to Johnson, it is a bigger shame that some of the best golfers in the world might not be in the same league, than, you know ... everything else.
Johnson's comments come while the Saudi-backed LIV Golf League—which last month reached an agreement to merge with the North American PGA Tour—is under heightened scrutiny.
The Senate Homeland Security and Governmental Affairs Subcommittee on Permanent Investigations is hosting a hearing on the merger Tuesday; the hearing comes just one day after the league announced that it will host its $50 million championship at Donald Trump's National Doral Golf Club for the second year in a row.
That kind of money is top of mind for Johnson, who wonders what we would want Saudi Arabia to do with all that cash instead, if not buying out teams and leagues left and right in a massive sportswashing campaign: