Ron DeSantis Signs Bill Protecting Elon Musk If His Rockets Explode and Kill Workers
DeSantis signed the bill just one day after his presidential announcement alongside Musk.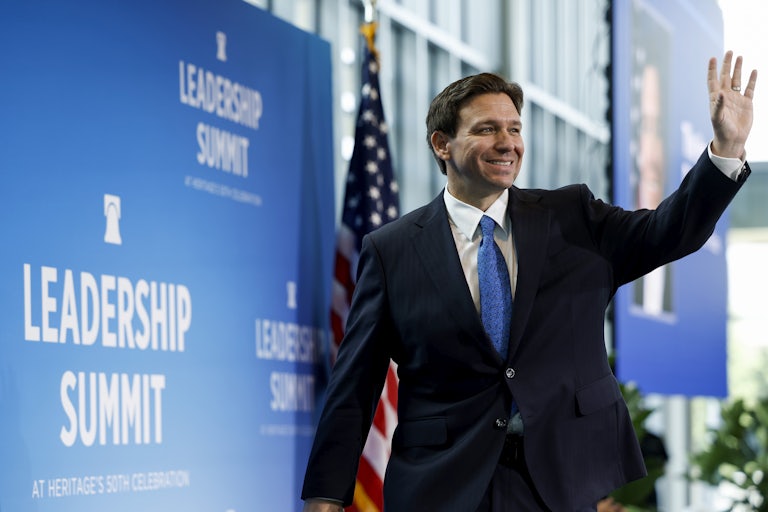 Anna Moneymaker/Getty Images
Just a day after Elon Musk and David Sacks hosted Ron DeSantis on Twitter for an exclusive and disastrous presidential announcement, the Florida governor signed a bill shielding Musk's SpaceX from liability if workers are killed after his rockets blow up (something that Musk is apparently very adept at making happen, from Tesla cars to rocketships, to presidential campaigns).
The Spaceflight Entity Liability Bill expands legal immunities that will shield private space companies, like Musk's SpaceX and Jeff Bezos's Blue Origin, from legal responsibility when workers suffer injuries or even die. At its core, the bill broadens when these companies are exempted "from liability for injury to or death of a crew resulting from spaceflight activities."
And Musk made sure his presence was known throughout the process of the bill. While the bill was advancing through both the state House and Senate, a SpaceX lobbyist, Jeffrey Sharkey, appeared at practically every single committee meeting related to it—lobbying members on at least five separate occasions, in five different state House committees. Other lobbyists from Boeing, Space Florida, and Florida Rising also made their presence known—but not to the extent SpaceX did.
While tycoons imagine a future of taxiing their fellow fat cats to space on a whim, these billionaire-plaything rockets keep exploding. The urge to make a business out of something that is not safe—nor, well, needed at the moment since we can't even take care of the planet we're on—helps explain the genesis of the bill. An analysis by the Florida state Senate admits it all quite plainly: "This bill has the potential to limit the cost of litigation to businesses engaging in spaceflight activities."
The bill mandates "crew" and participants alike fill out a waiver that grants legal immunities to space companies in cases of injury or death.

Moreover, the bill expands the definition of "spaceflight entity" to include any entity authorized to conduct spaceflight activities, beyond ones solely associated with the United States Federal Aviation Administration, opening up which entities in the broader industry will qualify for the expanded immunity. The bill also cuts out language ascribing liability to spaceflight entities for damage caused from "inherent risks" of spaceflight activity; instead, the bill broadens the scope of liability immunity to include all spaceflight activities.
Finally, the bill also amends language that orders entities to be liable for injury if they had actual knowledge, or reasonably should have known, of risks. The new language only orders legal liability for "actual knowledge" of risks, meaning there is no longer any expectation for companies to be responsible for damages from risks they "reasonably should have known" about.
The bill comes after both DeSantis's annoucement—where hand-picked guests spent more time hailing Musk like God than asking DeSantis questions—and DeSantis's own campaign released a bizarre post-launch video that showcases Musk as much as (if not more than) DeSantis.
On its way to DeSantis's desk, buttressed by the heavy lobbyist presence, the bill passed the state Senate 39–0 and state House 107–5. The wildly bipartisan effort to give special legal immunities to the richest people in the world's pet projects is in part a result of how much money these companies have flooded into both parties.

Musk's SpaceX has spent some $8 million in lobbying efforts since 2020 and donated another $1 million to members of both parties during the 2022 election cycle alone. Bezos's Blue Origin has spent some $6.3 million in lobbying efforts since 2020, while sending just over half a million dollars to members of both parties during 2022.
This post has been updated.