Why Elon Musk Is Nuking Substack on Twitter
Even his journo-buddies are up in arms.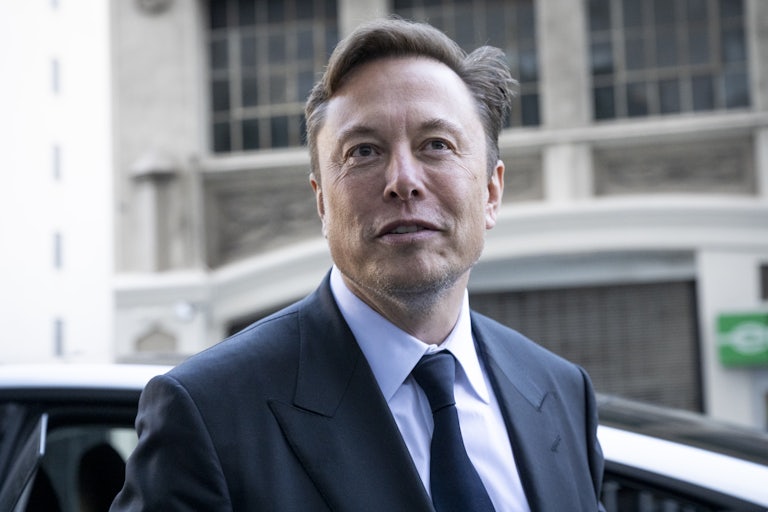 Marlena Sloss/Bloomberg/Getty Images
Free-speech warrior Elon Musk is suppressing Substack's own Twitter account, as well as any links to the newsletter company's website, including newsletters and posts from prominent independent writers such as Judd Legum, Erin Reed, and even Matt Taibbi, one of a select few journalists to whom Musk gave the so-called Twitter Files.

The move appears to be in retaliation for a new feature Substack announced on Wednesday called Notes, which would let users share posts, comments, images, and links in a timeline-style feed—similar to how Twitter functions. The following day, Twitter began blocking Substack writers from being able to embed tweets in their newsletters. Then, on Friday, Twitter began fully blocking users from being able to distribute links to their Substack pages at all.
Twitter users are still able to post links to Substack newsletters, but other users are unable to like, retweet, or reply to those posts, severely limiting the reach of such posts. Moreover, as of this story's writing, users are unable to like, retweet, or reply to any posts from Substack's main Twitter account—whether they include a Substack link or not. The account itself appears to still have the ability to tweet, however.
Substack's founders have said they are "disappointed that Twitter has chosen to restrict writers' ability to share their work," adding that writers "deserve the freedom to share links to Substack or anywhere else."
Musk's move comes after Twitter welcomed its "2.0" era by releasing much of its source code related to recommendation algorithms, including ones that drive the pitiful "For You" timeline. The code revealed that Twitter had broken down authors into four categories: Elon Musk, "Power User," Democrat, and Republican; Musk's posts in particular were being pushed onto Twitter users.
Concurrent to the source code release, Twitter was set to begin phasing out existing verified accounts and welcoming users to obtain blue checks only by paying for them. The plan was set to roll out on April 1 but has yet to come to fruition.
Musk's attack on Substack is part of pattern, since he bought Twitter in October, to suppress content on an essentially ad hoc basis—from enabling the Indian government to silence dissent to reinstating white nationalists and haphazardly banning journalists.
At the same time, Musk handed over internal company documents to Taibbi and others for a controversial and misleading series of tweet-threads and newsletters about how Twitter was run prior to Musk's reign. On Friday, Taibbi asked Musk about the apparent attack on Substack and said he did not hear back.
Hours later, Taibbi said he heard from Twitter—likely Musk himself—that Twitter is indeed responding to Substack's new feature, which it views as a "hostile rival." Taibbi asked his mysterious source at Twitter how he was supposed to market his work and was given the option to just post his articles on Twitter instead of Substack. In response, Taibbi announced he's "obviously staying at Substack" and "will be moving to Substack Notes next week."