What Biden Just Did for the UAW Is a Big Freaking Deal
Biden visited the United Auto Workers picket line—and what he said there is huge.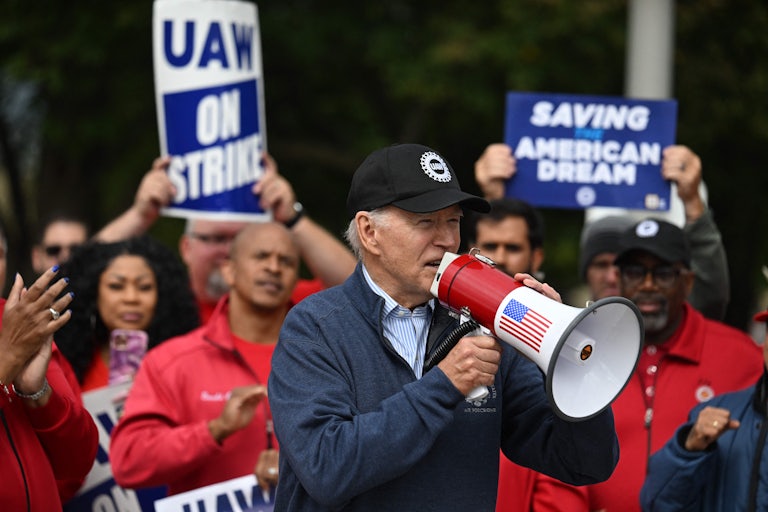 JIM WATSON/AFP/Getty Images
Joe Biden addresses striking members of the United Auto Workers union at a picket line outside a General Motors Service Parts Operations plant in Belleville, Michigan, on September 26.
President Joe Biden on Tuesday became the first sitting U.S. president to ever visit a picket line, when he joined striking members of the United Auto Workers Union in Michigan.
"I've marched a lot of UAW picket lines when I was a senator, since 1973, but I'll tell you what: This is the first time I've done it as president," Biden said in a brief address to the workers gathered outside General Motors' Willow Run Redistribution Center in Belleville, who have been striking since September 15.
"Folks, stick with it because you deserve the significant raise you need and other benefits," Biden said. He also voiced his support for the striking workers and called upon the Big Three automakers—Ford, GM, and Stellantis—to "step up."
"UAW, you saved the auto industry back in 2008 and before," Biden said. "You made a lot of sacrifices, you gave up a lot, and the companies were in trouble, and now they're doing incredibly well, and you should be doing incredibly well too."
When Biden was asked whether striking workers should receive the 40 percent wage increase they are demanding, he said, "Yes."

Biden was greeted at the Detroit Metro Airport earlier in the day by UAW President Shawn Fain and Representatives Debbie Dingell, Rashida Tlaib, and Shri Thanedar, as well as Lieutenant Governor Garlin Gilchrist.
Biden's arrival at the UAW picket line is a startling kicker to nearly four decades of declining union membership.

Fain thanked the president for his visit on Tuesday.

"Thank you for coming to stand up with us in our generation's defining moment," Fain said to the rallying workers. "We know the president will do right by the working class, and when we do right by the working class, you can leave the rest to us because we're going to take care of this business."
Meanwhile, former President Donald Trump is also planning his own visit to Michigan on Wednesday—but he is set to speak at a nonunion supplier, 50 miles away from striking workers, where he plans to blame the electric vehicle transition for the strike, according to state Senator Mallory McMorrow.