Trump's Lawyers Beg Him to Cancel Press Conference on "Rigged" 2020 Election
Trump promised to show proof of voter fraud in the 2020 election—and his lawyers are very worried.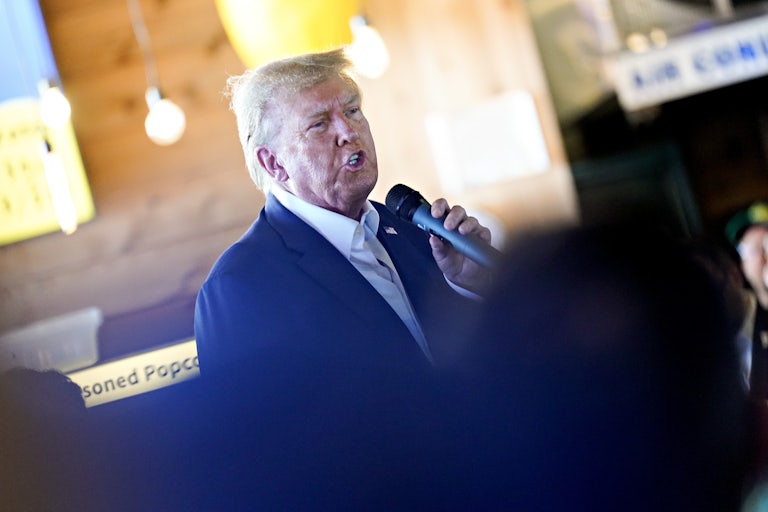 Al Drago/Bloomberg/Getty Images
Donald Trump's legal team is begging him to abort his stupid plan to publicly refute the newest indictment against him by proving voter fraud in the 2020 Georgia election.
After his fourth indictment late on Monday, the former president promised to hold a press conference in Bedminster, New Jersey, and finally show irrefutable proof that the Georgia election was rigged.
In a post on Truth Social, Trump claimed to have a "Large, Complex, Detailed but Irrefutable REPORT on the Presidential Election Fraud which took place in Georgia." But now, his own team is trying to prevent him from delivering it.

Trump's legal advisers have told him that holding a press conference to refute the charges against him will only serve to embroil him in a more messy legal situation, sources told ABC News. Some of his attorneys have even advised him to cancel the event altogether.

For once, listening to his lawyers may be wise, especially considering that next week is going to be very busy for Trump, what with the whole turning-himself-in thing. Not to mention, the first Republican presidential debate is set for August 23, just two days before the deadline for Trump and his 18 co-defendants to turn themselves in.

Trump has said he's still thinking about whether or not to attend, but now he may be planning to use his arrest to upstage his opponents on the day.