Marjorie Taylor Greene Says Trump Prosecutor Should Go After Rapists (Who Wants To Tell Her?)
This is the worst possible defense of Donald Trump.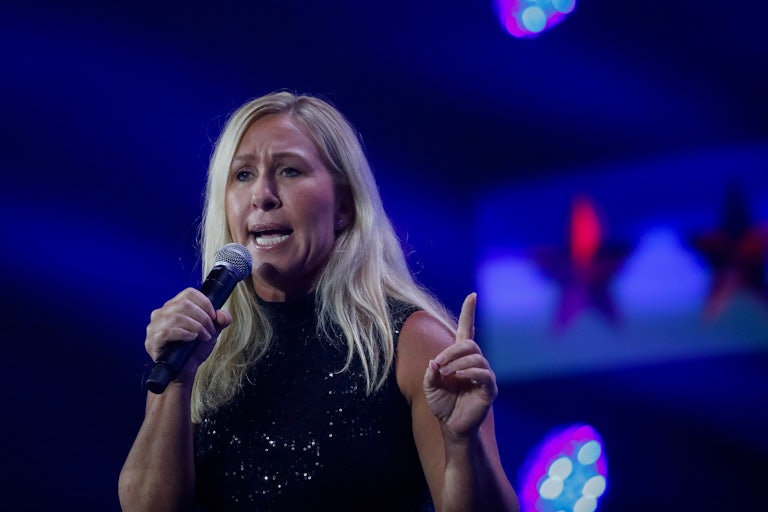 Eva Marie Uzcategui/Bloomberg/Getty Images
Marjorie Taylor Greene thinks that the Fulton County district attorney should be "going after rapists," not Donald Trump. Luckily for her, the Georgia indictment actually kills both birds with one stone.
Trump was indicted for a historic fourth time late Monday, and charged with racketeering for trying to overturn Georgia's 2020 election results. District Attorney Fani Willis has not yet set a date for his arraignment, but she has issued arrest warrants for Trump and his 18 co-defendants.
Speaking to Newsmax on Tuesday evening, Greene argued that Willis should focus more on addressing sexual predators.
"Fani Willis should be going after child sex predators and traffickers," Greene said. "Fani Willis should be going after murderers, rapists."
Greene did not explain why she, an elected Georgia representative, thinks the best way to stop child sex trafficking is by praying and then voting against a human trafficking bill. Maybe she's too busy waving Hunter Biden's nude photos around (and possibly sending them to minors) to introduce legislation to protect victims of human trafficking or rape.
But luckily for Greene, Willis's indictment of Trump has actually taken care of both trying to protect democracy and going after a major sex offender.

Trump was unanimously found liable for sexual abuse and battery against writer E. Jean Carroll in the mid-1990s and for defaming her in 2022 while denying the assault. He was ordered to pay her about $5 million in damages
Trump tried to get the ruling thrown out, arguing that the damages were "excessive" because he only sexually abused Carroll. He also sued Carroll for defamation, after she said he raped her.
But the judge presiding over the case threw out both of Trump's motions. Judge Lewis Kaplan said that Carroll's comments that Trump raped her were "substantially true."
In a separate ruling dismissing Trump's request for a new trial, Kaplan called Trump's argument "entirely unpersuasive" and noted that the New York penal law definition of rape is "far narrower" than in common understanding. As a result, not only would Trump not get a new trial, but he is definitely a rapist.