"Recalculate Motherf**er:" Republican Rep. Curses Out Police in New Video
New bodycam footage shows "Back the Blue" Representative Ronny Jackson berating police officers.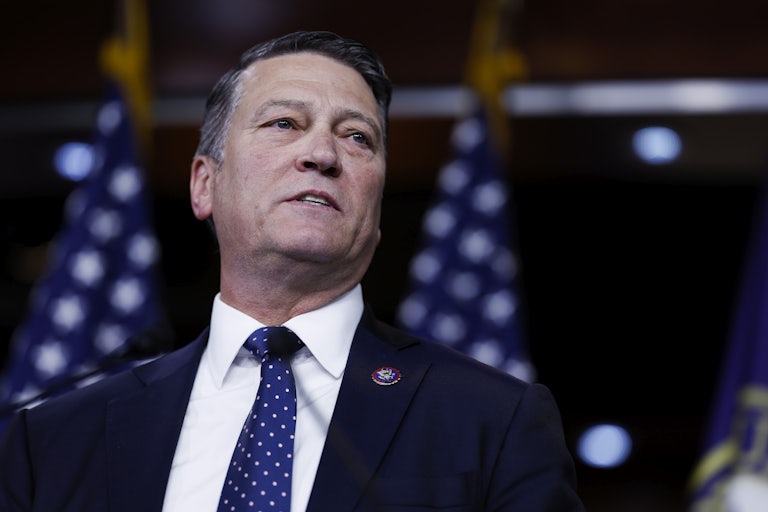 Anna Moneymaker/Getty Images
Newly released video shows "Back the Blue" Republican Representative Ronny Jackson spewing a profanity-laced tirade at state troopers who were trying to detain him last month.
The bodycam footage shows Jackson was tackled to the ground by a Department of Public Safety trooper at the White Deer Rodeo near Amarillo, Texas. As he was lifted off the ground, he began loudly swearing at the DPS trooper.

"You are a fucking full-on dick," he can be heard shouting in the footage provided by DPS and posted by The Texas Tribune on Monday. "You better recalculate motherfucker!"
According to the Tribune, the DPS trooper was attempting to remove Jackson so that EMS could respond to a medical emergency involving a teenage girl at the rodeo. In the video, a DPS trooper repeatedly told Jackson to move so that EMS could attend to the teenager. The Republican congressman, who was formerly Donald Trump's physician, refused to step aside.
On Monday night, Jackson tweeted that he was glad that the video of this altercation had become public because it "shows the incompetence of the authorities and their complete disregard for the young girl in distress."
While Jackson doesn't seem to be embarrassed by his actions, he probably should be, if only because he has been an outspoken pro-police advocate.
In May 2021, Jackson tweeted, "Unlike our President, I will ALWAYS stand by our country's police officers. BACK THE BLUE!" Apparently standing by police officers can also mean berating them.

Jackson showed some remorse on Monday and tweeted, "I will apologize for my language, but I will not apologize for getting upset & speaking my mind considering the circumstances."
However, he still went on to criticize the police, adding, "We have the best Sheriffs in the country here in the panhandle and north Texas. Unfortunately, the Sheriff in Carson County is not among them."
It seems that Jackson's determination to back the blue doesn't apply to his own belligerent conduct.