Marjorie Taylor Greene Constituent Compares Her to Woman Who Lied About Emmett Till
A Georgia voter bravely confronted the representative for her racist views.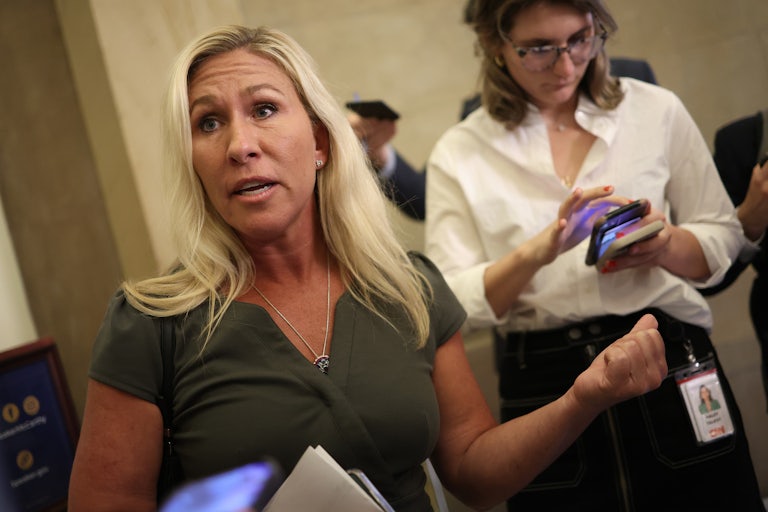 Kevin Dietsch/Getty Images
A constituent confronted Marjorie Taylor Greene and compared her to Emmett Till's accuser—and the Georgia representative responded by doubling down on racist comments about a Black colleague.
During a town hall on Friday, a Black woman stood and said Greene's claim that she felt "threatened" by Representative Jamaal Bowman was just as "reckless" as Carolyn Donham's accusation against Till.

Donham, who died in April, accused Black teenager Till of whistling at her and accosting her in 1955. Donham later admitted to lying and making Till's offense seem more extreme, but not before her then-husband and brother-in-law lynched Till in response. They were acquitted but later confessed to the murder in a magazine interview. Till's killing helped galvanize the Civil Rights Movement in the 1960s.
"You had no business saying, 'Oh, he's so big, oh, I feel so—like he's gonna hurt me!'" the constituent continued, over boos from the crowd. "That's the same thing Carolyn Donham said that got Emmett Till killed, and that was reckless."
"You did a reckless thing, and if anything happens to Jamaal Bowman, it's gonna be on your hands."
The constituent was referring to Greene's claim that Bowman led a mob to surround her car in April when she went to New York to support former President Donald Trump while he was criminally indicted. In reality, the people were counterprotesting Trump supporters and were unrelated to Bowman.
Greene later said Bowman yelled at her and called her a white supremacist, which she took "great offense to." She also said he was "aggressive" and that she felt "threatened," playing up the "scary Black man" stereotype.
At the town hall, Greene doubled down, insisting that Bowman "came with a crowd and brought a crowd around my car," to the point that security officials had to shepherd Greene into her vehicle.
Greene also said that Bowman calling her a white supremacist was a "horrible thing to say" and that it was "derogatory and it's wrong." She also said it wasn't about skin color but about a woman feeling threatened by a much larger man.
All of that is pretty rich coming from a woman who has repeatedly spread harmful conspiracies about Jewish people, Muslim people, people of color, and LGBTQ people. It's also ironic that Greene claims to fear a "mob," given how she has called for sedition and encouraged the violent January 6 mob.