"We Have to Bring Religion Back Into Our Country," Says Sexual Abuser Donald Trump
It's not clear when exactly Trump thinks religion left our country.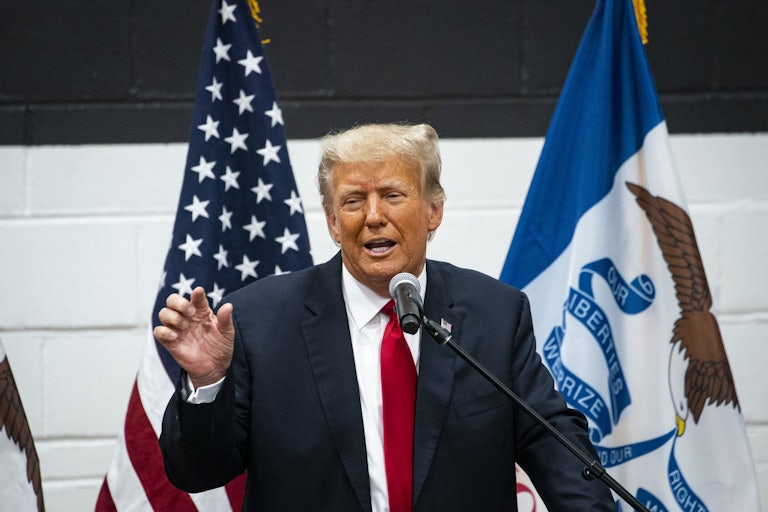 Al Drago/Bloomberg/Getty Images
On Thursday, twice-impeached, criminally indicted, and liable-for-sexual-abuse former President Donald Trump told a room of faith leaders in Iowa that "we have to bring religion back into our country."
It's unclear when or how religion exactly "left" the United States, according to Trump. As far as Christianity goes, it still is deeply baked in an array of American institutions, not least in the pledge of allegiance children are forced to recite every morning in their supposedly politics-free classrooms. Moreover, we have representatives like Marjorie Taylor Greene, who proudly proclaimed herself to be a Christian nationalist, or Lauren Boebert, who said, "I'm tired of this separation of church and state junk."
Bar nothing, Republicans' most drawn-upon course of action in the face of tragedies is not government action or policy change, but prayer.
Recall that as president, Trump explicitly brought religion into politics by targeting religious minorities with things like his infamous Muslim ban, regularly sharing antisemitic conspiracy theories, and nominating a Supreme Court justice who was part of a religious covenant that called for women to be subservient to men.
More likely than not, Trump's comments are part of a broader handwave toward vilifying LGBTQ people (framed by the far right as perverse or "ungodly") at the beginning of Pride Month, and a token of reminder toward conservative religious groups that have jostled to erode abortion rights in this country. Given Trump is in primary mode for now, he's looking to harden all bases of support, especially in the wake of groups like Susan B. Anthony Pro-Life America condemning the former president for refusing to declare his support for a federal abortion ban.
Of course, whether Trump is encouraging even further encroachment of religion into our institutions, or whether he's specifically nodding toward vilifying LGBTQ people or eroding abortion rights, it's all unpopular. So he can throw the comments out as much as he wants—funnier too given that every other primary candidate will try to one-up everything he says. Once the primary is all said and done, the output will be a Republican candidate whose agenda is enveloped in the kind of extreme conservative objectives that have led the party to lose over and over and over again.